The team of Siddharth Anand's film, Shah Rukh Khan, Deepika Padukone and John Abraham met the media amid the stupendous success of the film 'Pathan' at the box office. These stars also met the media and said some such things which are a great advice for those who erect high walls of religion in the name of film and industry. In this event, Shahrukh Khan pointed towards the kind of things that have started increasing rapidly in the film industry and caste-caste and has spoken a lot about the discrimination of religion in the industry.

Shah Rukh Khan, Deepika Padukone and John Abraham interacted with the media and celebrated the success of the film together. These stars also had a lot of fun on this occasion, but what Shahrukh said is going to touch the hearts. These days, the way films and film stars are being boycotted on social media in the name of religion, Shahrukh Khan has said a lot about it. These words of Shahrukh are giving a strong message to those who differentiate between Hindu-Muslim. Shah Rukh Khan is a Muslim, Deepika Padukone is a Hindu, John Abraham is a Parsi and Shah Rukh Khan has said something about all three, which must be heard by those who boycott stars and films on the issue of religion. Recall that there was a lot of ruckus about 'Besharam Rang' in the film and people had also accused Deepika of hurting religious sentiments by pointing to her saffron bikini.

Shahrukh bluntly to those who raised the wall of religion
This video of Shahrukh Khan is becoming increasingly viral on social media and people are feeling very good to hear it. In this video, Shahrukh is seen saying, 'This is Deepika Padukone, this is Amar, I am Shahrukh Khan Akbar, this is John Anthony. All this makes our cinema, Amar Akbar Anthony, there is no difference between us for anyone, not for any culture, not in any aspect of life. We love you and that's why we make films, we love you so that you love us too.
Shahrukh said – we are hungry for love
This video of Shahrukh Khan is touching the hearts of the fans a lot. He is further seen saying in this video, 'Hum bhuke hain prem ke, humko jab woh mila hai aapka pyaar… Since Anurag sat down, he said 28 times 100, 200 or 500 crores, 1000 crores, how many crores are there' It is not necessary to go, the love you get by watching our film and we are happy when you watch that film, there is no bigger reward, no bigger result than that. Thanks a lot.'
Need to keep alive the beautiful culture and old stories
Shah Rukh also talked about handling the country's culture through films. He said- We need to keep our country's beautiful culture and old stories alive. He said, 'We need to tell our youngsters these stories in a modern way and in a different way and when we tell them this story in a different way, it does not mean that we make fun of it. We just try to tell the words of youngsters, which has changed.
Shahrukh said- these are the characters that can make you happy
He also said on this occasion, 'I want to say to the younger people and want to assure them that cinema is all about goodness and happiness. We make mistakes as well, we have good qualities and we also have bad ones. To be honest, all the people who make films, not only us, wherever they make films in North, East, South, West, in which language, I think everyone's aim is the same, that we are happy. Spread love, kindness. Even though we play the bad guy on screen, John played in this film, but none of us are bad. These are characters that can make you happy.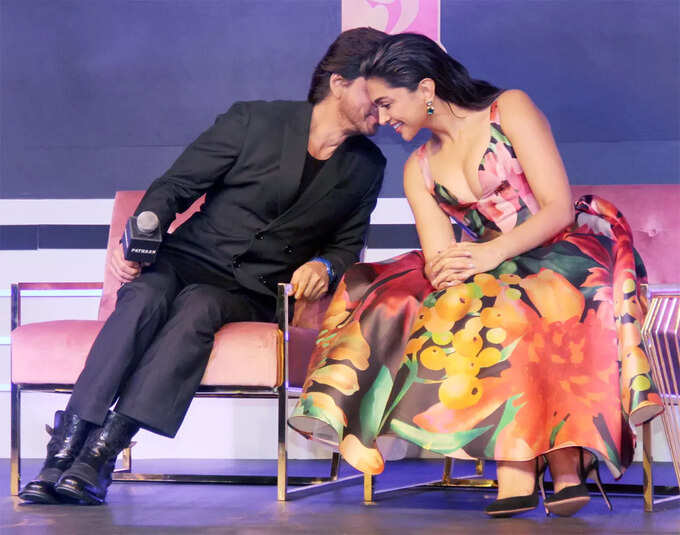 Worldwide earning close to 600 crores
The film 'Pathan' is continuously setting records at the box office. Shah Rukh Khan's film 'Pathan' has earned around Rs 300 crore in Hindi only in 6 days. At the same time, in 6 days, the worldwide earning has reached the figure of about 600 crores. Directed by Siddharth Anand, this film has broken all the records of Bollywood films.

Visit to get more Entertainment news updates