Some time back Kapil Sharma was criticized when Vivek Agnihotri claimed that Kapil Sharma refused him to promote 'The Kashmir Files' on his show. gave. When the matter caught fire, Kapil Sharma had put his side in the clarification. Now he is in discussion once again. Recently something happened that Kapil Sharma had to apologize to one of his fans on social media.

Actually the latest episode of 'The Kapil Sharma Show' was recently shot. Kapil Sharma shot with Akshay Kumar and Manushi Chhillar for the promotion of the film 'Prithviraj'. Later, Kapil Sharma also shared a picture with Akshay on Instagram. Many audiences had come from far and wide to participate in this episode. A fan of Kapil Sharma also came from Lucknow.

Due to this the shooting of The Kapil Sharma Show was stopped, the sets of many more serials were also locked.
This fan named Manish Gupta was brought to the show by making sketches of Kapil Sharma as well as his show team, Akshay Kumar and Manushi Chillar. But she was not allowed to meet Kapil Sharma. Sadly, the fan returned to Lucknow and later posted a tweet on Twitter tagging Kapil Sharma and Akshay Kumar.

In the tweet, Manish Gupta wrote, 'Kapil Sharma Sir, I am Manish Gupta, I made your sketch. Sketch was made by Akshay Kumar sir, Manushi Chillar ma'am and your entire team. Today I came on your show to give sketch, but they did not give me permission. I had come from Lucknow. From so far away.'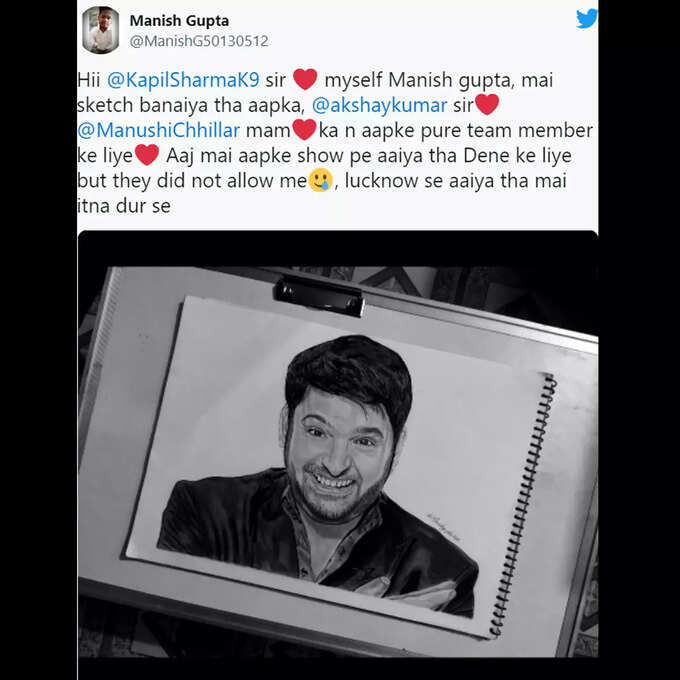 PHOTOS: Kapil Sharma called Archana Puran Singh 'Lady Laughing Buddha', the actress gave a tremendous response
When another user asked this fan why he was not allowed to meet, he wrote in response, 'I went to the show. But due to paucity of time I didn't get a chance to give sketch to Kapil sir. I have no regrets about it. I am happy that I got to see Kapil sir's live performance. Next time I will try to meet him. He is a good person and has a good heart. I am a big fan of Kapil sir.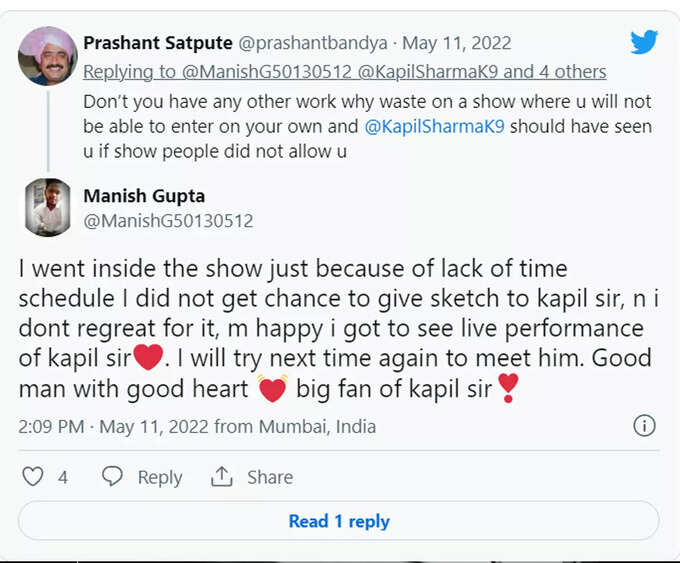 Video: Kapil Sharma asked – How do you make a pair with every actress? Kartik Aaryan stopped speaking by giving this answer!
Seeing the tweets of this fan, Kapil Sharma apologized to him and wrote that he will definitely meet him next time. Kapil Sharma tweeted, 'Manish for such a beautiful sketch. Sorry for the inconvenience caused to you. The studio was full, so they didn't give you permission. Will see you again sometime. Lots of love.'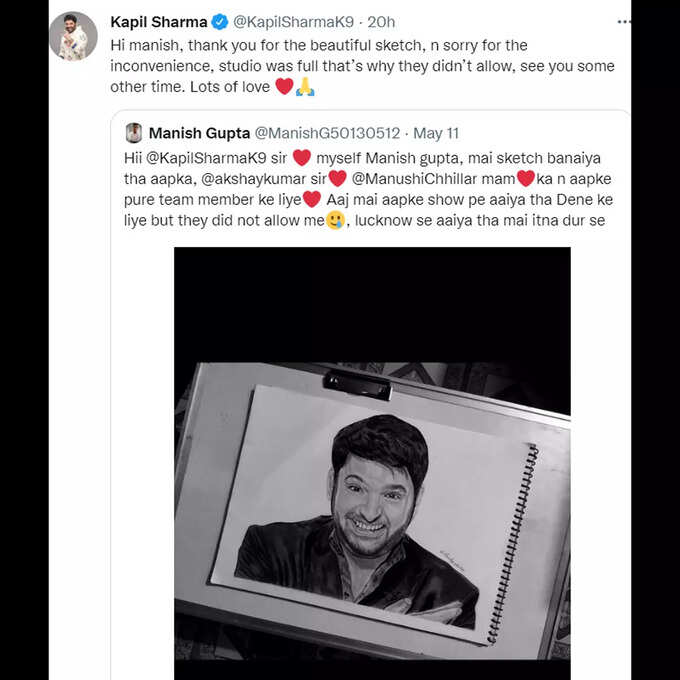 Kapil Sharma is going to go on his US-Canada tour soon. His tour is starting from June 11, in which he will perform live with the team from Los Angeles to Canada and many more places. His tour will last till July.