Munawar Faruqui is in constant limelight after becoming the winner of the reality show 'Lock Up'. While the fans are very happy with his victory, there was a lot of speculation about the mystery girl (Munawar Faruqui Girlfriend) Naazil who was seen with him. It is being told that she is his girlfriend. Well, now Munavvar himself has stamped his relationship. Nazil has shared some photos on Instagram, in which the comedian is sometimes seen holding the hand of his ladylove and sometimes posing romantic (Munawar Faruqui Romantic Photo With Girlfriend) with her.

Munawwar Farooqui celebrated his girlfriend Nazil's birthday with pomp. He has shared photos of the celebration on Instagram. In some pictures she is seen with cake and in some with red roses. But what caught the attention of the people was the picture in which Munavvar is holding a bouquet of red roses and he is holding Nazil's hand.

romantic photo went viral
View this post on Instagram

There is another photo of Munavvar and Nazil, which is very romantic. Nazil has taken a mirror selfie, in which he is seen hugging Munavvar. At the same time, Munavwar is very close to him.
Fans are commenting
Now after this photo surfaced, there has been a flood of comments on Nazil's post. One wrote, 'Happy sister-in-law.' While the other commented, 'Perfect couple'.
Was seen at the success party of 'Lock Up'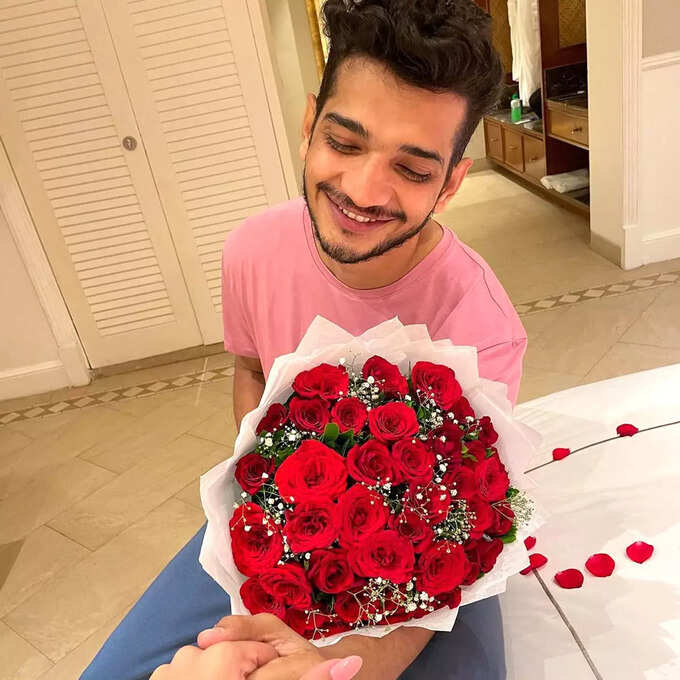 Nazil was spotted at the success party of 'Lock Up'. At the same time, by sharing a romantic photo with Nazil on his Instagram account, Munavwar had given air to the fact that he was in a relationship. After this, now they have announced their relationship.
Munawwar's first live
View this post on Instagram

After coming out of the show, Munavvar did a live session on Instagram for the first time. During this he did many things. During this, he praised co-contestant Payal Rohatgi and said that he would definitely work with her. Ajma Fallah also joined him in the live. During this, both of them had a lot of fun.
'Munjali' fans disappointed
Munawwar Farooqui has become the first winner of Kangana Ranaut's reality show 'Lock Up'. His fight with 'Kacha Badam' fame Anjali Arora inside the show was very much liked by the fans and people started lovingly calling him 'Munjali'. However, in the show itself, a blurred photo of Kangana appeared and it was being claimed that in this picture is her wife and son. After this, Munavvar refused to say anything on this. Now Munjali fans are a bit disappointed after her relationship with Nazil is confirmed.