TV actress Debina Bonnerjee gave birth to a baby girl on 3 April 2022. After that she got discharged. Gurmeet Choudhary and Debina Banerjee kept a puja for the daughter. Named him. She created a separate Instagram page, where she keeps posting her photos and videos. Along with this, on her social media handle, she keeps sharing every update related to the daughter with the fans. Sometimes she recites lullabies to the girl and sometimes she is seen pampering her. In such a situation, once a video of him surfaced, in which he was holding daughter Liana with one hand. After this some users called him very good and bad. To which the actress has now given the answer.

Actually, she was singing a lullaby to make her daughter sleep. But instead of both hands, he was caught in the side with one hand. On which the user started trolling. One user wrote, 'Celebs are very busy making reels. Because of which he is not able to follow even the basic method of catching children. Another wrote, 'Ma'am I want you very much but why have you held the child so carelessly. I know you are a great mother but your baby is too small to hold like this. Lots of love to both of you.

Debina Bonnerjee-Gurmeet Choudhary Baby Name: Debina Bonnerjee-Gurmeet Choudhary revealed the name of the daughter, know what it means?


VIDEO: Debina Bonnerjee recited Lalla-Lalla lullaby, but with a twist, holding her daughter in her hand
Debina Banerjee replied to the trolls
Now Debina has given the answer to these people. She has shared a group photo with mother-in-law, mother, husband and daughter in her Insta story and wrote, 'You guys have many questions. Why have I caught the kids like this, why don't I call my mother-in-law as mommy… any more questions? All I can say is that I have some protective hands around. And you can see this thing too. These people say everything is fine.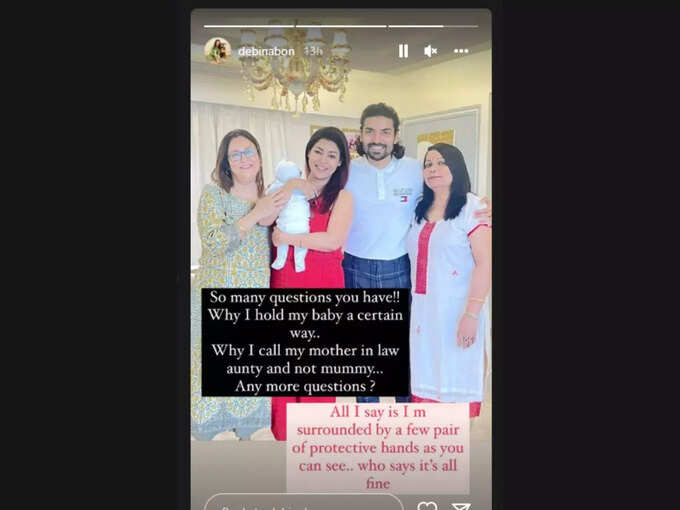 Debina Banerjee's new born baby had to be hospitalized, the little life was in the incubator
Debina Banerjee has her lovely family
Debina Banerjee said a lot through these two lines. She says that she is not the only one taking care of the child. There is always someone around her, be it her mother, mother-in-law or her husband and actor Gurmeet Chaudhary. Everyone is taking care of the baby girl. In such a situation, people do not need to worry in this time.