It is known that the family members of Superstar Krishna, who passed away due to a heart attack, will move his body to Gachibowli Stadium for fans to visit. They said that Krishna's body will be kept at Gachibowli Stadium at 5 pm today. However, now that decision has been changed. Natasekhar's body will be laid to rest at Vijaykrishna Nilayam in Nanakramguda tonight. Tomorrow morning they will move to Padmalaya Studio instead of Gachibowli Stadium. From there they will be taken to Mahaprasthan for the final journey.

In fact all arrangements have been made to take Krishna's body to Gachibowli Stadium today evening. But Ghattamaneni's family changed their decision at the last minute with the sentiment that the body should not be taken out of the house due to sunset on Tuesday. It was decided to keep Krishna's body at home tonight. However, Krishna's fans reached the Gachibowli Stadium in large numbers this evening. They are waiting to see their favorite hero.

However, Krishna's mortal remains will be moved from Nanakramguda residence to Padmalaya studio tomorrow morning. It will be kept there for fans to visit from 9 am. Fans will be allowed to pay their respects to Krishna till 12 noon. After that, the final journey to Mahaprasthan starts from Padmalaya Studio. The last rites will be held there with the honors of the Telangana government. Film and political celebrities will participate in this funeral.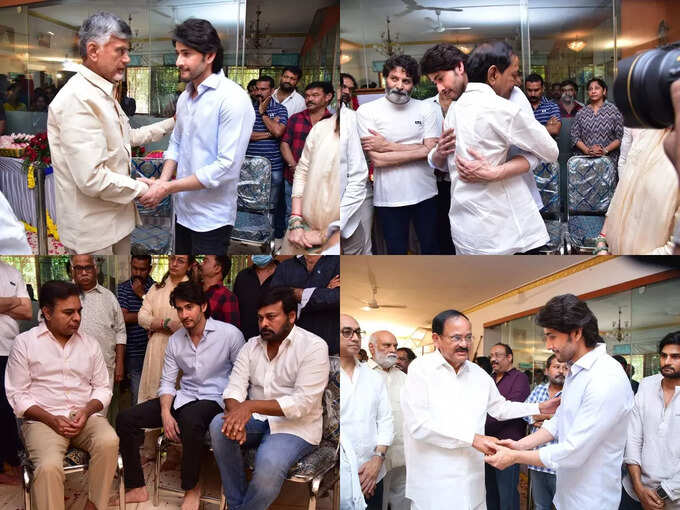 Meanwhile, film and political celebrities paid tributes to Krishna's mortal remains at Vijaya Krishna Nilayam today. Several politicians from Telugu states including former President Venkaiah Naidu, Telangana Chief Minister KCR, former AP Chief Minister Nara Chandrababu Naidu, Telangana Ministers KTR, Harish Rao and Errabelli Dayakar Rao visited Krishna's body and paid their respects. They expressed their condolences to Mahesh Babu and his family members. Also, Megastar Chiranjeevi, Mohan Babu, Murali Mohan, Power Star Pawan Kalyan, Victory Venkatesh, Prabhas, Jr. NTR, Ram Charan, Allu Arjun, Rajendra Prasad from the film industry paid tribute to the superstar. Mahesh was consoled. Mohan Babu, however, could not hold back his emotions and lamented.

Get the more news updates on Tollywood