Once a movie was released and became a super hit, they used to talk about it for 100 days. They used to calculate how many centers played for 100 days. But, now those calculations have changed. The 50 day theatrical run of the super hit movie is skyrocketing. After playing in theaters for just 30 days, it is coming to OTT. Even in such situations, the audience is still talking about the movie RRR. This movie directed by S.S.Rajamouli with Junior NTR and Ram Charan as heroes was released on March 24 this year. It means six months have passed since the release of the movie. However, no one has forgotten this movie. The reason for this is that RRR has gained immense popularity worldwide.

However, no matter how popular a movie is, some people may not like it. Otherwise, some people hesitate to say this publicly. But Nikisha Patel, the heroine of Pawan Kalyan's 'Puli' movie, did not hesitate. She tweeted that she saw the movie RRR and didn't like it. 'There is no need to like every movie seen. Everyone has an opinion. Nikisha said in a tweet that she wanted to say that she didn't like it. It is understood that she has written this way in her tweet with the intention that RRR fans will definitely target her. But will the spirits settle down? The heroine of 'Puli' is being played.

'If you don't like it, who wants it?', 'Who asked your real opinion', 'How much if you like it, how much if you don't like it', they are commenting on the comments of NTR and Ram Charan fans. On the other hand, others are accusing Nikisha Patel of tweeting like this for attention. A netizen scolded Nikisha Patel for not liking the film because she is a British citizen. However, some are supporting that Nikisha Patel expressed her opinion as genuine. All in all Nikisha Patel is trending after a long time. Being trolled a lot.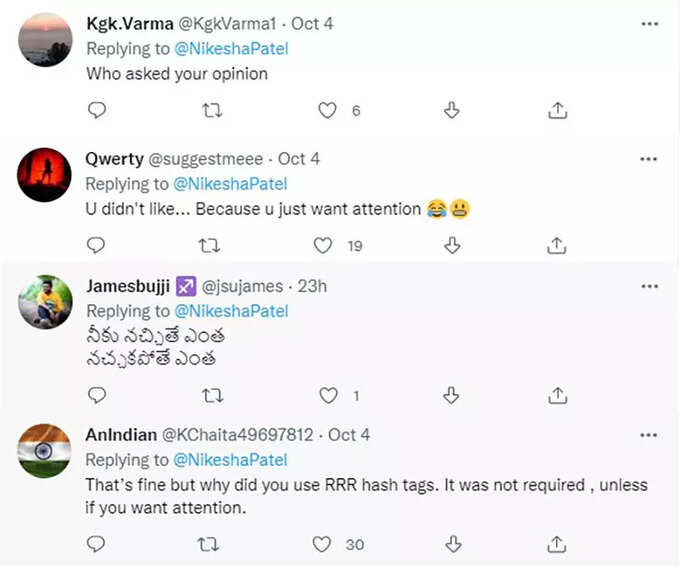 Nikisha Patel, who belongs to a Gujarati family, was born in Cardiff, the capital of Wales, UK. Pawan Kalyan made his debut on the silver screen with the movie 'Puli'. After that she did some movies in Kannada and again acted in Kalyan Ram's 'Om 3D' in Telugu. However, she did not get a proper break. Unable to excel as a heroine, she returned to her homeland. She keeps in touch with her fans by tweeting from time to time. But, now RRR is tweeting about the movie and turning everyone's attention towards her.

Get the more news updates on Tollywood