Khushi Movie: The movie 'Khushi' is a special place in the career of Power Star Pawan Kalyan.. This is the 7th movie in which Pawan acted as the hero.. It increased the power star craze and fan following among the youth. Pawan's power packed performance, dialogues, dances, mannerisms and attitude made the boy crazy. Still 'Khushi' is the favorite film of many. Even if it is being telecast on TV, they watch it without missing a beat.

Now the movie is going to hit the theaters again after 21 years. Pawan Kalyan and Bhumika as the heroines.. Introducing SJ Suriya to Tollywood who was introduced as a director with Ajith's movie 'Wali'.. Youthful romantic comedy entertainer 'Khushi' produced by top producer AM Ratnam under the banner of Sri Surya Movies..

Released on April 27, 2001, this movie not only became a super duper hit but also turned Pawan Kalyan's career around as a hero. Recently, Pawan's fans made special shows of the movies 'Gabbar Singh' and 'Jalsa'. After seeing the commotion, the news is going viral that the makers are now planning to re-release the movie 'Khushi'.

Since the movie is 21 years ago, it will remain on film.. So, it will be converted to digital with 4K Ultra HD quality, DTS and the process of converting it into cube. It is already known that on the occasion of Pawan's birthday, a special trailer was cut with the name 'Khushi Trailer Reloaded' and it went viral.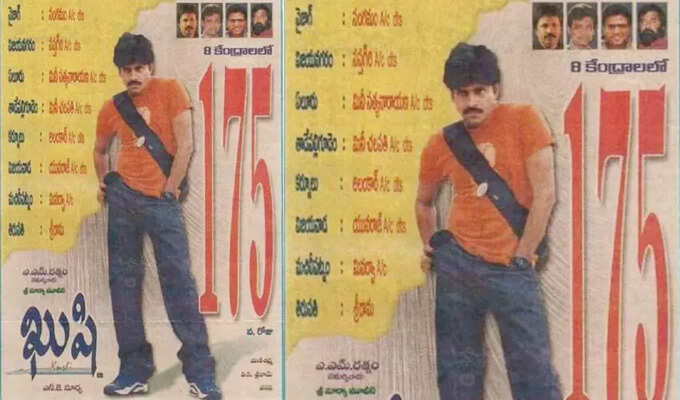 They are planning to re-release on a huge scale in Telugu states as well as overseas. They are thinking of releasing it in as many places as possible abroad. Also a special occasion has been selected for the re-release. It is fixed to re-release the movie 'Khushi' as a world wide grand on December 31, 2022 on the occasion of New Year 2023.
This is really good news for Pawan's fans.. but they are going to give another surprise. That is.. under the direction of talented director Krish Jagarlamudi.. the historical film 'Hari Hara Veeramallu' produced by 'Khushi' producer AM Ratnam.. the two teasers that have already been released are impressive. Another new teaser has been cut.. it is going to be screened in 'Khushi' re-release theatres.
Get the more news updates on Tollywood