The metro rail project is being implemented in the capital Chennai to reduce traffic congestion. In the current scenario, metro trains are operating on two routes, the Green Line and the Blue Line. This route has been gradually expanded. Accordingly, trains will run on the Blue Line from Chennai Airport to Wimco Nagar Workshop (Route 1) and on the Green Line from Parangimalai Metro to Chennai Central Metro (Route 2).

In the next phase, work on new metro rail projects from Madhavaram Dairy to Siruseri Chipkot (Route 3), Poonamallee Bypass to Lighthouse (Route 4) and Madhavaram Dairy to Cholinganallur (Route 5) has been expedited. Work on the Orange Route from Poonamallee Bypass on the 3rd Route to the Lighthouse is in full swing.

This route is under construction and is under construction. Particularly in the area from Nandanam to Pangal Park, earthworks and underground drilling are in full swing. A total of 26.1 km of 28 railway stations will be set up along the Orange Line.

It is planned to run 26 trains at the rate of 3 compartments per train. Orange Route Starting at Lighthouse Metro Concert Road, Thirumayilai Metro, Alwarpet, Bharathidasan Road, Boat Crew, Nandanam, Pangal Park, Kodambakkam, Meenakshi College, Power House, Vadapalani, Sally Village, Avichai School, Alwar Thirunagar,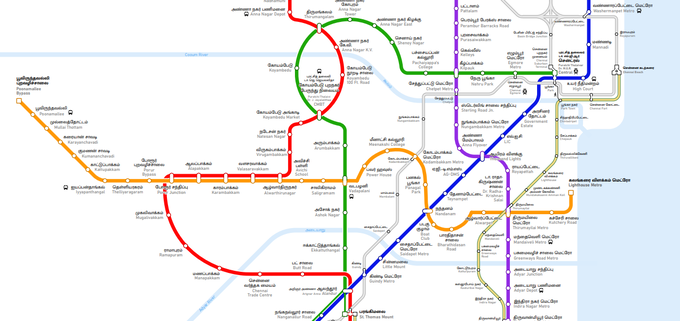 Valasaravakkam, Karambakkam, Alappuzha, Porur Junction, Porur Bypass, Telliyaragaram, Ayyappanthangal, Kattupakkam, Kumanan Chavadi, Karayan Chavadi, Mullaithottam, Poovirunthavalli Bypass. If this orange route comes into use, the western part of Chennai will be connected to the eastern part by metro.


Chennai rain record: The rain that poured in Chennai … this is the highest in six years!
This will be of great benefit to those who go to work. Job seekers can reach IT companies quickly, especially in the East Coast Road areas. It helps to travel without congestion even if you are staying away from homes. It is expected that traffic in Chennai will be much easier if the purple route and the red route come into use.
Get more news about states