Kolkata
Harshal Patel and Axar Patel celebrated India's spectacular win over New Zealand. India won the three-match series 3-0. After the match, both of them also told their funny plan. He expressed his intention to keep all the man of the match between the two in the upcoming T20 Internationals for India.

India won the third T20 International by 73 runs. India played a wonderful game on a pitch suitable for the batting of Eden Gardens and scored 184 runs for 7 wickets. Chasing runs, New Zealand had a very poor start. Akshar Patel took 3 wickets for 9 runs. New Zealand could not recover from these initial setbacks and after scoring 111 runs in 17.2 overs, the entire team was all out.

Harshal Patel made his debut in Ranchi and took two wickets for 25 runs. He played a key role in helping India win by seven wickets. Along with this, in the last two T20 International matches, two man of the match got Patel surname. Akshar and Harshal were joking on this. In a video released on the BCCI website, Akshar asked Hardik about his performance.

Harshal said, "It is a unique experience. I'll tell you I didn't expect the debut match to go so well because none of my debut matches had gone well before. But I used my skills well and the result was also in our favor and we won the match. I don't know, we haven't decided yet but looks like man of the match will be between Patels for now.

Suryakumar Yadav was the man of the match in the first T20 International. India won by 5 wickets in this match held in Jaipur, achieving a score of 165 runs. The series which ended on Sunday was off to a great start for the new coach and captain duo.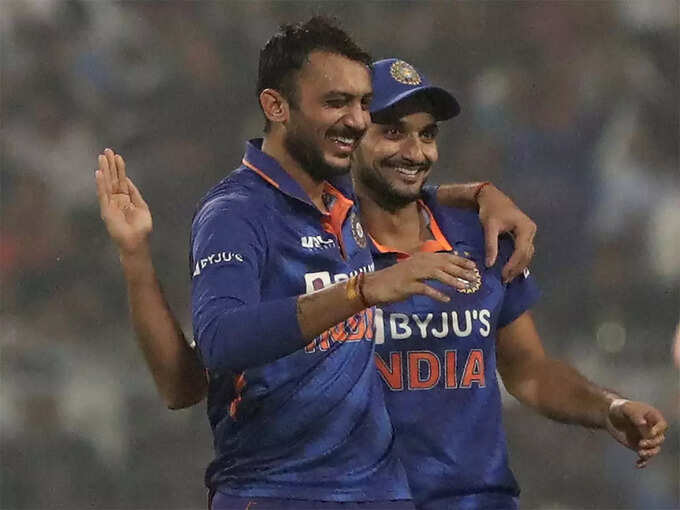 ,