Highlights
Dravid said about Ajinkya Rahane's rhythm is just a matter of innings
Dravid said you want Dravid to score runs and he would also like that
Rahane's batting average is less than 20 in 12 Tests this year
Team India has to play the next test match in Mumbai from December 3
Kanpur
Indian cricket team head coach Rahul Dravid said here on Monday that Test vice-captain Ajinkya Rahane, more than anyone else, is himself trying to find his way by scoring big scores and for him it is just one innings. a matter of.
Rahane, who is leading the team in the absence of regular skipper Virat Kohli, scored 35 and four runs in the drawn Test against New Zealand here. He averages less than 20 in 12 Tests this year.
When Dravid was asked whether Rahane's rhythm is a cause of concern for the team, he said, 'There is no need to worry too much about it. Obviously you would like Ajinkya to score more runs for you, he himself would like the same.
"He is a talented player and has done well for India in the past. He is one of those people who have the skills and experience. It's just a matter of one match, he knows it and we understand it too.
With the return of skipper Kohli in the next Test in Mumbai, will Shreyas Iyer be dropped to give Rahane a place in the last 11?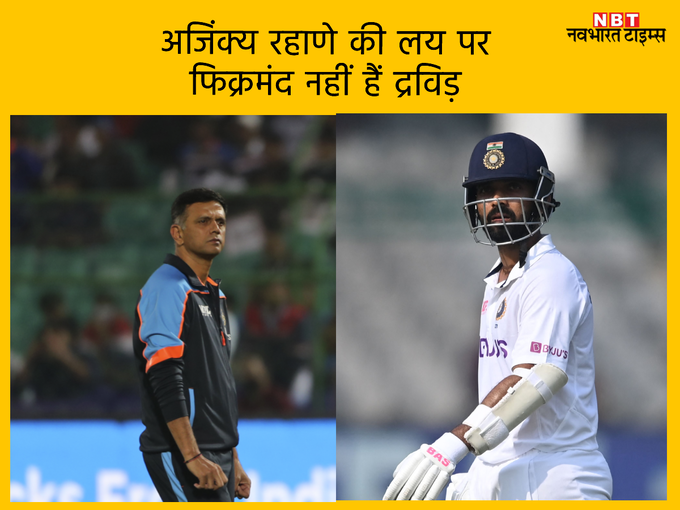 Dravid said, 'We have not decided what our playing XI will be and it is too early. At least today our focus was on this match. When we go to Mumbai, we will take stock of the situation and check the fitness of the people. Virat Kohli will also join, so we have to discuss with him and then take a decision.
He praised Iyer, who traveled from Under-19 cricket to Test cricket, calling it the success of Indian cricket. "It's good to see youngsters do well on straight debut and we have seen a couple of players in T20s as well who have made a mark in the opening games," he added.
,