Kanpur
Today is the third day of the first Test between India and New Zealand at Green Park. Despite Shreyas Iyer's century in the debut match (105 runs, 171 balls), the Indian team lost six wickets for only 87 runs on the second day. After the bowlers, New Zealand's batting was also excellent. Opener Will Young (75* runs) and Tom Latham (50* runs) shared a 129-run partnership. Now on the third day also the visiting team wants similar performance from their batters.

scorecard

start of the third day
Ishant Sharma opened the Indian innings with the ball. Hope to see reverse swing. Before the start of the day's play, coach Rahul Dravid, along with Ashwin, was seen inspecting the pitch. Tom Latham and Young Will would like to pick up where they left off yesterday.

kiwi domination day
Barring a century in Shreyas Iyer's debut Test, the second day's play went to New Zealand. After Kyle Jamieson on the first day, Southee dominated the bowling in the first session, while Young and Latham did not allow India's experienced bowlers to put pressure in the second session. Not even Ishant Sharma's pace could stop him and Ravichandran Ashwin's spin too.

New Zealand are 216 runs behind India
Young has scored 75 runs in 180 balls with 12 fours while Latham is playing 50 runs in 165 balls which includes four fours. New Zealand's team is 216 runs behind India's first innings score and all their wickets are safe.

All DRS successful
The Kiwi batsmen appealed to the DRS against three LBW decisions and were successful. The pitch gave more bounce to the fast bowlers in the morning, thanks to which Saudi took four wickets. On the other hand, spinners like Ashwin and Jadeja did not get turn. Ashwin, Jadeja and Axar Patel put together 41 overs and conceded 92 runs while none could get success. At the same time, Ishant gave 10 runs in six overs and Umesh gave 26 runs in 10 overs.

Kiwi openers showed their strength
For the first time in the last five years, a visiting team's openers have played more than 50 overs in India. Kiwi team opener Tom Latham and Will Young returned not out to the pavilion after playing 57 overs. Batting first, the Indian team has lost only once on their soil after scoring 345 runs in the first innings. This happened in 1998 when Australia defeated India by eight wickets in the Bangalore Test match. Then India had scored 400 runs while batting first.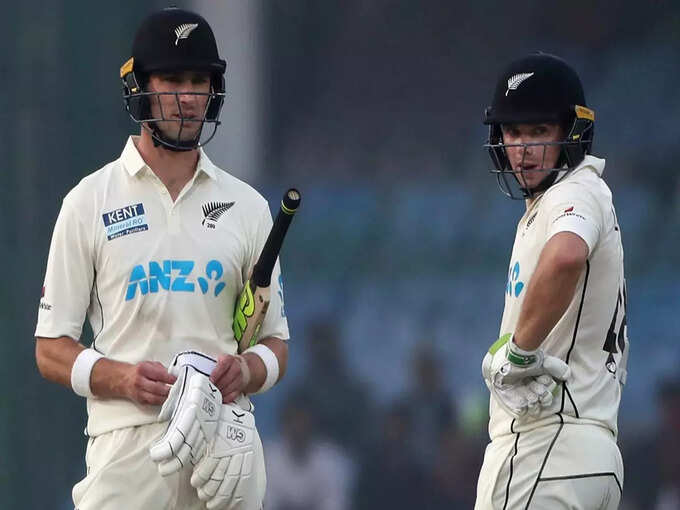 ,