Highlights:
Sunrisers Hyderabad scored two wickets for 219 runs on the basis of Warner's and Saha's fifty
In reply, the Delhi team flopped badly and could only score 131 runs in 19 overs.
With the victory by 88 runs, Hyderabad's hopes of reaching the playoffs have been fulfilled.
Dubai
In the 47th match of the Indian Premier League (IPL) Sunrisers Hyderabad Points included in table toppers Delhi capitals Defeated by a big margin of 88 runs. Hyderabad scored 219 for 2 wickets thanks to the stormy batting of David Warner (66) and Saha (87). In reply, Delhi batsmen looked helpless in front of Hyderabad's bowling and could reach 131 runs on all wickets. For him, Rishabh Pant scored 36 runs in 35 balls with the help of 3 fours and a six, while Ajinkya Rahane scored 26 runs. For Hyderabad, Rashid took 3 wickets for just 7 runs.
Hyderabad benefited in point table
With this victory, the Hyderabad team's playoff hopes have come alive. She has reached 5 points in her 12 matches with a 5th win and has moved up to number six in the table. On the other hand, Delhi have not made any difference despite the defeat and remain at number two.
Read- Warner and Saha beat up, it happened after 3 years 117 days with Rabada
Poor start of Delhi, Shikhar and Stoinis cheap out
In response, Delhi Capitals got off to a bad start. On the third ball of the first over, Sandeep Sharma dismissed opener Shikhar Dhawan (0). While on the last ball of the second over, Nadeem dismissed Marcus Stoinis (5). Both these catches were caught by captain and birthday boy David Warner. Delhi scored 14 runs for two wickets.
Read- IPL-13: David Warner achieved a special place on birthday
Rashid did two victims in an over
Opener Ajinkya Rahane and Shimron Hetmyer were trying to get together as the charismatic spinner Rashid Khan, who came for the 7th over, dismissed both. Shimron Hetmyer (16) was bowled first, while Ajinkya Rahane (26) was dismissed LBW off the 5th ball of the over. The third wicket was 54, while the second wicket fell at 55 and the score was 55 for 4 wickets.
See- 'Fit' Rohit, Captain Virat, Coach Shastri and Fans burst on board
Iyer, Akshar and Pant could not do anything amazing
Captain Shreyas Iyer was dismissed as the 5th wicket. He was caught by Vijay Shankar at the hands of Kane Williamson on a personal score of 7 runs. After this, Rashid Khan came to his last over and caught Akshar Patel in the hands of Priyam Garg and gave Delhi the sixth blow. Characters could score a run. Rashid finished his quota with 3 wickets for just 7 runs in 4 overs. Vijay Shankar to Shreyas Iyer (7) and Sandeep Sharma to dismiss Rishabh Pant (36) also broke the expectations of Delhi. In the last, Tushar Deshpande (20 runs off 9 balls) made some good shots, but it was not enough to give the team the victory.
IPL 2020: Hyderabad is heavy on Delhi, see how the thrill of the match
Warner, Saha and Manish fiercely take news of Delhi bowlers
Sunrisers Hyderabad took the news of the Delhi Capitals bowlers fiercely and scored a huge score of 219 runs for two wickets. For the Hyderabad team, who came out to bat first after losing the toss, Birthday Boy captain David Warner smashed 66 runs in 34 balls with the help of 8 fours and two sixes, while Riddhiman Saha came in to start the innings with 45 balls. Scoring 87 runs with 12 fours and 2 sixes.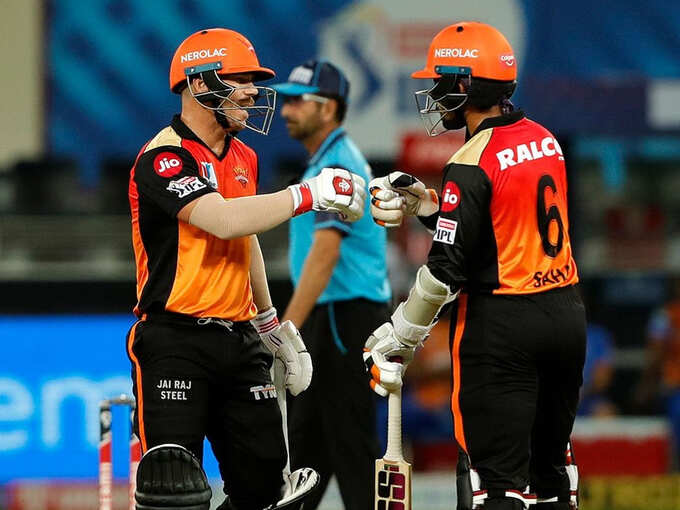 Record 77 runs added in Powerplay, Warner created history
From Saha and Warner Kagiso Rabada to Nortje, they scored 77 runs in the powerplay, hitting fours and sixes. Warner scored 54 runs during the powerplay and set a new record for this season. Earlier this season, Prithvi Shaw of Delhi Capitals had the record of scoring the highest 42 runs in Powerplay. Warner and Saha gave Hyderabad a good start. Both of them shared a fast century partnership for the first wicket. Warner was caught by Akshar Patel by Ravichandran Ashwin for a total of 107. The wicket fell on the fourth ball of the 10th over. Warner faced 34 balls and hit 8 fours and 2 sixes.
Read- IPL: Hyderabad beat Delhi Capitals in a one-sided match, know when what happened
Century Chook Saha
After the captain's departure, Saha took the responsibility of taking the score to a strong level and got a quick run. Saha completed the first 50-run partnership with Manish Pandey. His and Pandey's partnership was leading to 100, but only then Saha was dismissed by Enrique Nortje for a total of 170 to give Hyderabad a second blow. Saha faced 45 balls and hit 12 fours and two sixes.
Read- IPL: Sunrisers Hyderabad beat Delhi Capitals by 88 runs, see scorecard
Manish Pandey again rained
After Saha's departure, Pandey teamed up with Kaman Sambhali and Williamson to take the score to 200. After that both took the score to 207 runs that is the biggest score made in Dubai this season. Manish Pandey also scored an unbeaten 44-run knock for Hyderabad with the help of four fours and a six off 31 balls. Kane Williamson returned unbeaten on 11 runs. Earlier, Kings XI Punjab scored 206 for three against RCB. For Delhi, Enrich Nortje and Ravichandran Ashwin scored one each.
Kagiso Rabada's most expensive bowling
Kagiso Rabada (54/0) was the most expensive bowling in the last 3 years. Interestingly, in the last 25 IPL matches, he had been taking wickets continuously, but today his record of this charismatic performance was broken. He did not get a single wicket.