Dubai
The IPL-13 title match between Mumbai Indians and Delhi Capitals is being played in the Sheikhs and the rich city of Dubai. The winning team will return home after getting rich. Defending champions Mumbai Indians have a chance to lift the trophy for the fifth time, while the Delhi Capitals are desperate to win the title for the first time. Delhi Capitals have decided to bat first by winning the toss. Delhi's innings is over. Delhi have scored 156 runs in 20 overs. If Mumbai wants to win the title for the fifth time, then they will have to score 157 runs. Mumbai Indians, playing an amazing innings, have won this match by 5 wickets. Mumbai has captured this title for the fifth time.
MI vs DC IPL Final 2020: Mumbai-Delhi title match, watch the live scorecard of the match here
Mumbai Indians win
Mumbai Indians have won this match by five wickets. The Delhi Capitals dream remained unfulfilled. For Mumbai, captain Rohit Sharma, playing a strong innings, laid the foundation for victory by playing 68 runs off 51 balls. There was a 45-run partnership for the first wicket while a 45-run partnership for the second wicket was also done. Mumbai won the title by defeating Delhi while playing amazing cricket.
Captain's half-century
Rohit Sharma has completed his half-century playing an amazing innings. Rohit Sharma completed his half-century in the 12th over. Rohit Sharma took 35 balls to complete his half-century.
Second shock for mumbai
Mumbai Indians have received a second setback. Surya Kumar Yadav has been out for 19 runs. Captain Rohit Sharma tried to run for a run by playing a drive shot but he could not see the ball, the other end also sounded Surya Kumar Yadav for not taking runs but by then he had run to the other side and then Surya Kumar in compulsion Yadav had to run and he was run out.
Mumbai Fifty
Suryakumar hit Stoinis for six to take the Mumbai Indians beyond 50 runs in 4.3 overs.
Stonis dismissed Di Cock
Quinton de Kock (20) got caught by Marcus Stoynis at the hands of Rishabh Pant, the first blow to Mumbai. This wicket fell on the very first ball of the 5th over. Score 45/1
Rabada beaten, scored 18 runs
0 4 L4 0 6 4
Kagiso Rabada, who came for his first over in the innings, was targeted by De Kock. He hit a six and two fours, while a four came in the form of leg bye. A total of 18 runs were scored in this over.
Mumbai's innings started
Mumbai Indians' innings has started. Quinton de Kock and captain Hoit Sharma have started the innings. The first over from Delhi has been given to R Ashwin. Rohit hit a six on the third ball of the first over. His and the team's account opened.
Delhi's innings ended
The Delhi Capitals innings is over. Captain Shreyas Iyer and Pant gave the team a strong partnership. Delhi crossed the 150-run mark thanks to this partnership. Delhi's three wickets fell very quickly after that there was a 96-run partnership between these two players. Captain Iyer remained unbeaten on 65 runs while Pant shared a 56-run partnership. Fatal bowling was seen from Mumbai. Trent Boult of Mumbai Indians took three wickets while Nathan Culter Nile took 2 wickets. Delhi scored 156 runs in 20 overs.
Iyer's half-century
Shreyas Iyer also has a half-century. Iyer too has given a half-century. Captain Iyer has played a very important innings for his team today. Iyer completed his half-century in the 17th over
100 runs complete
Delhi Capitals bounced back and completed 100 runs and the team did not lose any wickets after three wickets. Rishabh Pant and captain Iyer are currently playing excellent cricket at the crease. The two have shared an 80-run partnership. Iyer is scoring 41 and Pant is scoring 43 runs.
Hetmyer also went
Delhi has suffered a fifth setback. Shiromon Hetmyer is out. Trent Bold once again took three wickets while performing amazing giddiness. Hetmyer hit a 5-run knock for Delhi.
Pant out
Pant's bat remained calm throughout the IPL but his bat thundered in the final match. A 96-run partnership between Pant and Iyer. But Notthal Coulter Nile dismissed Pant. Pant scored 56 runs for the team. Pant's bat rained on an important occasion. Delhi needed a partnership that these two players completed.
Need for partnership
Delhi was struggling with difficulty, but the partnership for the third wicket would definitely reduce the pressure on Delhi. Currently, captain Shreyas Iyer and Rishabh Pant are present. So far, 65 runs have been shared between the two.
Delhi's 50 runs complete
50 runs of Delhi Capitals have been completed. At present, the situation in Delhi is critical here. Delhi's three wickets have been dismissed cheaply. The team has completed 50 runs in 7.5 overs. Philhar is playing Rishabh Pant and Shreyas Iyer at the crease.

Delhi in trouble, third blow
Delhi Capital's team is now getting into trouble. Shikhar Dhawan has also lost his wicket. Shikhar Dhawan's wicket was taken by Jayant. Dhawan scored 15 runs. Delhi have lost three big wickets inside the powerplay itself. Scar 22/3

Second success
Delhi's team has received its second setback. In Bolt's over, Ajinkya Rahane has returned to the pavilion. Rahane scored just 2 runs. Delhi needed a partnership but Rahane could not advance the innings.

First ball of first over
Marcus Stoinis, who gave a great start to the qualifiers before Delhi, fell to the first ball in the final.
Delhi's innings started
Delhi's innings has started. Marcus Stonis has returned to the pavilion. Trent Bolt already sent Stoinis to the pavilion on the first ball of the over. The first over came with a bolt.
Playing xi
Mumbai Indians: Quinton de Kock (wicketkeeper), Rohit Sharma (captain), Suryakumar Yadav, Ishaan Kishan, Hardik Pandya, Karen Pollard, Krunal Pandya, James Pattinson, Trent Boult, Jayant, Jasprit Bumrah.
Delhi Capitals: Shikhar Dhawan, Marcus Stoinis, Ajinkya Rahane, Shreyas Iyer (captain), Rishabh Pant (wicketkeeper), Shimron Hetmyer, Praveen Dubey, Akshar Patel, Ravichandran Ashwin, Kagiso Rabada, Enrique Nortje.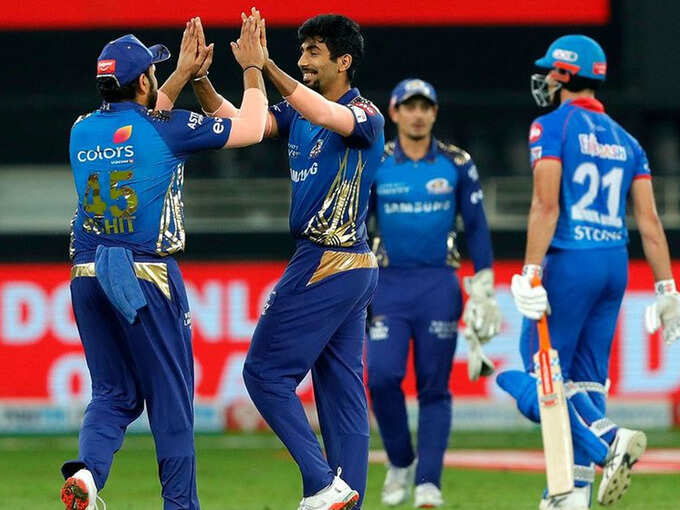 Head to head
Total Matches 27
Mi won 15
Dc won 12
Untied tie 0
Pitch meter
Speed ​​dominance
Both teams have the world's top class storm bowlers. Especially for Delhi, Kagiso Rabada and Enrique Nortje have been constantly harassing the opposition batsmen at their own pace, while Mumbai also has Jasprit Bumrah and Trent Boult, who have been taking wickets on important occasions with precise line and length. This season has been dominated by these four in terms of wickets. While Rabada is at the top with 29 wickets, Bumrah is second with 27 wickets and Bolt is third with 22 wickets. Nortje has also taken 20 wickets. In such a match, both the teams will have their own heavy bowlers. Whose pace goes, his pan will definitely become heavy.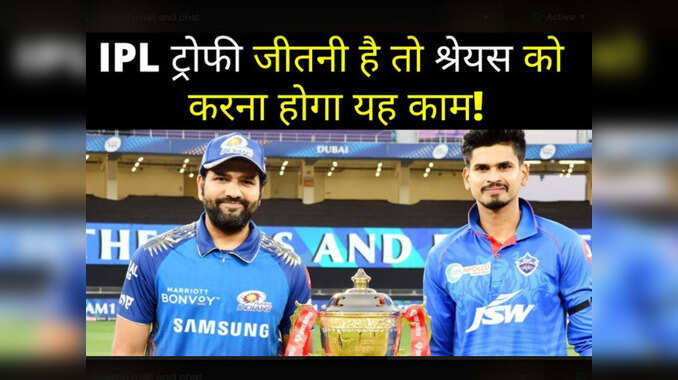 If Mumbai wants to win the final, IPL trophy, Shreyas will have to do it!
IPL 2020 Final: Delhi's Manegi Diwali or Mumbai to hold 'punch' of title win in Dubai?
Numbers game
Both teams clashed 3 times this season and each time Mumbai won unilaterally.
Who has so much power
Mumbai Indians
Played 15 matches this season, won 10
130 Six Mumbai batsmen have scored
Ishan Kishan has made the maximum of six seasons this season
Delhi capitals
Played 16 matches this season, won nine
Only 84 Six Capitals batsmen could apply
Kagiso Rabada has taken 29 wickets this season.

IPL-13 at Dubai International Stadium
Matches played: 23
Runs: 8377
Four: 683
Six: 309
For live