Highlights:
Team India captain Virat Kohli expressed hope, all sides will resolve the issue in peace
The crowd of farmers on the Ghazipur border, Singhu border and Tikri border of Delhi is continuously increasing
Farmers have been protesting for withdrawal of all three agricultural laws for a long time.
new Delhi
Captain of team india Virat Kohli Has said that it is time to remain united, in the midst of the farmer movement on the Delhi border for a long time. He tweeted on Wednesday that stay united in this round of disagreements.
The crowds of farmers on Delhi's Ghazipur border, Singhu border and Tikri border have been steadily increasing, but Virat hoped that all sides will resolve the issue peacefully.
See, Preparing to 'evict' Shami from daughter's life? Hasin took this step
He wrote, 'Let us all be united in this time of disagreement. Farmers are an integral part of our country and I am sure that an amicable solution will be reached between all the parties so that there can be peace and all can move forward together. '
Read, Sachin's advice to Rihanna & Co., said – Indians will not decide on sovereignty, Indians will decide on India
At the same time, star shuttler Saina Nehwal also described farmers as an integral part of the country.
Earlier, legendary batsmen Sachin Tendulkar and former coach Anil Kumble gave a quick reply to all those celebrities including pop star Rihanna who are trying to interfere in India's internal affairs.
Former Indian cricketer Suresh Raina also expressed displeasure over this and advised foreign celebrities not to make any comment on the farmers' movement.
The limited overs vice-captain Rohit Sharma has also given an opinion on this-
International celebrities including Greta Thunberg, niece of US Vice President Kamala Harris, pop star Rihanna, who have worked towards environmental and climate change, have supported farmers' demonstrations against the country's new agricultural laws. There was a lot of controversy over this and even the Foreign Ministry gave the advice to such foreign personalities not to interfere in the internal issues of India.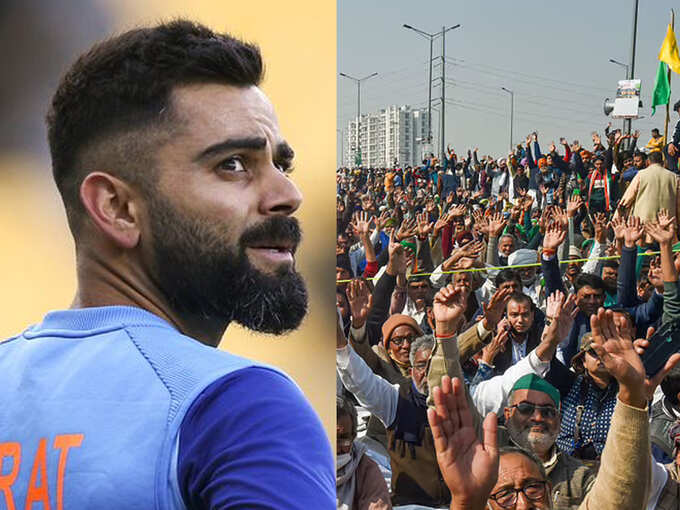 Like Virat Kohli, shuttler Saina Nehwal also tweeted