Dubai

The exciting season of the 13th season of the Indian Premier League (IPL) has begun. Now the teams are engaged in playoff manipulations. One match is required. Saturday's first match was played between Kolkata Knight Riders and Delhi Capitals. The second match is being played between Kings XI Punjab and Sunrisers Hyderabad. In the match, Hyderabad won the toss and decided to field first. The Punjab team looked helpless in front of the Hyderabad bowlers and could only manage 126 runs for 7 wickets.
IPL 2020: Punjab and Hyderabad clash, watch the live commentary of the match here
Samad could not work
Abdul Samad (7) was caught by Mohammed Shami at the hands of Chris Jordan. Hyderabad suffered a third setback. This wicket fell on the 5th ball of the 9th over. Score 67/3
Second shock to Sunrisers Hyderabad
Johnny Bairstow was bowled by Murugan Ashwin on the second ball of the 8th. He returned to the pavilion after scoring 19 runs in 20 balls. Score 58-2
Bishnoi sent pavilion to Warner
Hyderabad got the first blow in the 7th over of the innings by Ravi Bishnoi and on his second ball, Captain David Warner (35) was caught by Rahul behind the wicket. Although the on-field umpire had not given out, he had to change the decision after taking the DRS. Warner hit 3 fours and 2 sixes in 20 balls. New batsman- Manish Pandey
Hyderabad's Fifty completed with Bairstow's four
Chasing a target of 127 runs, Hyderabadi's fifty was completed in 5.2 overs, with Bairstow hitting 2 consecutive fours in the opening balls of this over from Murugan Ashwin to bring the team score to 52 for no wickets. David Warner is currently at the crease scoring 31 and Bairstow 19.
Warner's first six overs
Hyderabad captain David Warner hit the sixth ball of the innings. He sent Pacer Mohammed Shami for six in extra cover direction. Then Arshdeep also hit a six on the fourth ball of the very next over.
Hyderabad's innings started
Goal of 127 runs, Hyderabad innings started, David Warner and Bairstow on the field, Mohammed Shami's first over. A total of 11 runs were scored in this over, including six from David Warner.
Thrill of punjab's innings
Kings XI Punjab scored 126 runs against Sunrisers Hyderabad losing seven wickets in 20 overs. On being invited to bat, no batsman could play a big innings for Punjab, who came out to play the first innings. Nicholas Pooran was the highest scorer in Punjab. He scored an unbeaten 32 runs. Lokesh Rahul scored 27 runs. Chris Gayle scored 20 runs. For Hyderabad, Sandeep Sharma, Jason Holder and Rashid Khan took two wickets each.
Century in 16.5 overs
Punjab has somehow completed a century in 16.5 overs. Chris Jordan and Nicholas Pooran are on the field.
Deepak could not open account
Punjab's half innings returned. Deepak Hooda (0) was stumped by Rashid Khan to wicketkeeper Johnny Bairstow, score 88/5
Maxi flop again
Punjab got the fourth blow, Sandeep Sharma got Glenn Maxwell (12) caught by David Warner. In this way the maxi flopped once again. Score 86/4
Rashid bolded Rahul
Rashid Khan bowled cleanly to KL Rahul (27). Third shock to Punjab. He hit two fours and a six in 27 balls. The wicket fell on the first ball of the 11th over. Score 66/3
Chris Gayle out by Holder
Chris Gayle (20) was caught by Jason Holder by David Warner. Punjab got the second shock. He hit two fours and a six in 20 balls. The wicket fell on the last ball of the 10th over. Score 66/2
Punjab's half century in 6.3 overs
Punjab completed the half century in 6.3 overs. Chris Gayle and KL Rahul are on the ground.
Mandeep Singh out for 17
First blow to Kings XI Punjab. Mandeep Singh (17) was sent by Sandeep Sharma in the hands of Rashid Khan. The wicket fell on the last ball of the 5th over. Score 13/1
Read- IPL: Why Punjab's cricketers playing black belt dam, will salute Jan Rendeep
Punjab's innings started
Punjab's innings started, Mandeep and KL Rahul on the ground, first over to Sandeep Sharma.
Toss and change
Hyderabad won the toss and decided to bowl first. There is a change in Hyderabad. Khalil Ahmed has been included in the playing eleven in place of Shahbaz Nadeem, while Punjab has replaced Mandeep Singh and Chris Jordan in place of Mayank Agarwal and Jimmy Neesham.
Playing xi
Sunrisers Hyderabad: David Warner (Captain), Johnny Bairstow, Manish Pandey, Vijay Shankar, Priyam Garg, Abdul Samad, Jason Holder, Rashid Khan, Sandeep Sharma, T Natarajan, Khalil Ahmed
Kings XI Punjab: KL Rahul (C / W), Chris Gayle, Nicholas Puran, Mandeep Singh, Glenn Maxwell, Deepak Hooda, Murugan Ashwin, Chris Jordan, Ravi Bishnoi, Mohammed Shami, Arshadip Singh
Such is the situation of both teams
The position of Kings XI and Sunrisers is the same. To ensure a place in the playoffs, these two teams will have to win the rest of their matches. The tournament did not start well for Kings XI but he has performed brilliantly in the last three matches since Chris Gayle was included in the playing XI and has now become a dangerous team.
The Sunrisers will also have to win the remaining four matches to reach the playoffs. A win against Rajasthan Royals after three consecutive defeats would have boosted the morale of the team. A good news for the Sunrisers is the middle order getting into rhythm. It now appears to be a balanced team, where everyone is seen playing their role well.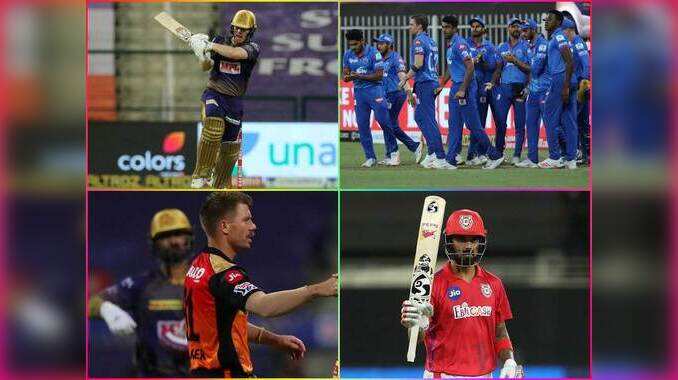 IPL 2020: Two matches will be played today, big battle for playoffs, see who gets the upper hand
Face to face
Total Matches 15
KXIP won 4
SRH won 11
No Result 1
Top performer
Bating: SRH David Warner (10 matches, 335 runs), KXIP Lokesh Rahul (10 matches, 540 runs)
Bowling: KXIP Mohammad Shami (10 matches, 16 wickets), SRH Rashid Khan (10 matches, 12 wickets)