The IPL 2020 season holds the record for the best season in tournament history. With the tournament league stage matches coming to an end on Tuesday, no team has qualified for the playoffs except Mumbai Indians. Four teams are vying for the remaining three playoff berths. On Sunday, three teams exited the tournament. However, for the first time in the 13 – year history of the IPL, the team that finished last in the points table also scored 12 points. Sunrisers Hyderabad secured their last playoff berth in the IPL 2019 season with just 12 points. It is also the first time that the Chennai team has gone home without playing in the IPL playoffs.
With the exception of Chennai Super Kings, all the other seven teams are in the playoffs till Saturday. With that .. the fans were also showing great interest in the tournament .. eagerly waiting for the teams to reach the playoffs. Four teams competed in two matches on Sunday. Chennai took Punjab home with them. Kolkata beat Rajasthan by 60 runs.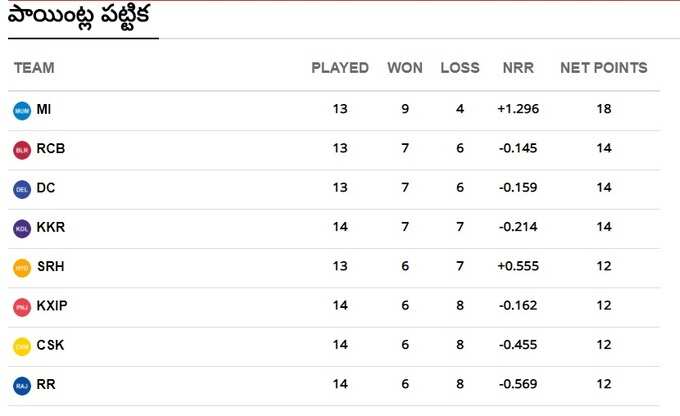 Bangalore and Delhi, who were in the top-3 by the end of the league half, were on a losing streak. The rest of Bangalore and Delhi lacked the intelligence and luxury of Mumbai in this regard. Those teams that had to easily reach the playoffs now had to face off on Monday in the Chavorevo battle. If the winning team reaches the playoffs .. the fate of the losing team will be known on Tuesday. Overall, the team's journey has not been smooth except for Mumbai in the latest season. Every team in the tournament .. competed hard for the rest of the teams. Previously the teams at the bottom of the points table .. tended to the teams at the top. But .. in the latest season, the top teams are sweating .. their playoff chances have been damaged. That's why the last four teams were able to stand on equal footing with 12 points. This is the first time in the history of the tournament that the last four teams have finished with 12 points by the end of the league stage.