Highlights:
India has defeated Australia on its own soil.
Earlier, in the absence of Virat Kohli, India's strong defeat was being predicted.
Indian players have given a befitting reply on social media to those making such predictions.
Brisbane
Veteran spinner Ravichandran Ashwin gave a resounding reply on social media after winning the series against Australia, to the former cricketers, who were speculating that India's wicket would be cleared after the Adelaide defeat. Indian players expressed their sentiments on social media after Australia lost 2–1 to their home country in a four-match Test series.
Ashwin shared a newspaper clipping that featured former Australia captains Ricky Ponting and Michael Clarke with former legend Mark Waugh, the band Haddin and former England captain Michael Vann. In the absence of Virat Kohli, all these former giants had predicted a drastic defeat of India in series. Van had said that the Indian team would lose the series 0-4. His tweet had a newspaper cutting on the left with these statements while on the right was the picture of the champion team.
He wrote with it, "Your pleasure, India's tour of Australia." Thank you for all the love and support you have received in the last 4 weeks. "Ajinkya Rahane, who captained the team after regular captain Virat Kohli returned to paternity leave, shared a photo with the entire team and the trophy." It is a matter of pride to be a part of. "
Mohammed Siraj, Shardul Thakur and Washington Sundar received reward for their performance
Vice-captain Rohit Sharma wrote, "It is becoming difficult for a team full of emotion to express emotions." No matter how many difficulties came our way. Everyone played fearlessly and it was fantastic to watch. It will always be remembered. "Young batsman Shubman Gill, who laid the foundation for victory by playing 91 runs in the second innings of Brisbane Test on Tuesday, wrote with some pictures," The only way to keep the team happy is keep winning. . "
Rishabh Pant, who played an important role in India winning the match and series by playing an unbeaten innings of 89 runs in the match, tweeted, "When your morale has dropped. You put extra effort. A series that we can never forget. We trusted ourselves in difficult times and winning in this series proves that you can achieve anything. "
Cheteshwar Pujara, who has stood at the crease like a mountain throughout the tournament, wrote, "I am full of emotions and pride." The passion and skill the whole team showed was fantastic. Such moments make countless hours of practice and hard work worthwhile. "Wicketkeeper Wriddhiman Saha wrote," After all, his hard work does not go in vain … Those who try will not lose. Yes, we did it.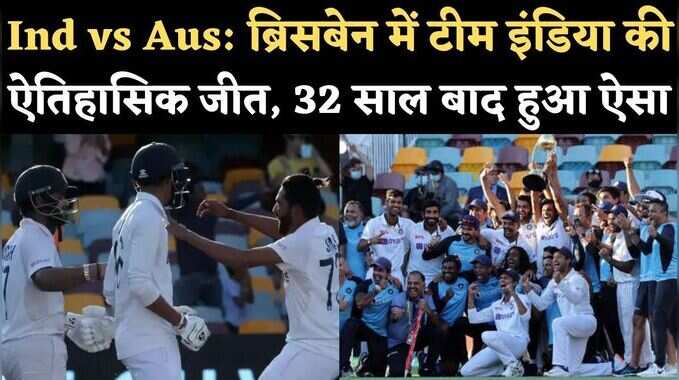 Ind vs Aus: Team India's historic win, it happened after 32 years