Abu Dhabi
The second qualifier of IPL -2020 is being played between Sunrisers Hyderabad and Delhi Capitals. The winning team of this match will get a final ticket, which will clash with Mumbai Indians on 10 November. Delhi won the toss and decided to bat first. Delhi's team is coming down with two changes. Today Prithvi Shaw has not got a chance, while Praveen Dubey has got a place in the team.
IPL 2020 DC vs SRH: Delhi-Hyderabad clash, watch the live scorecard of the match here
Team's 100 runs complete
100 runs of Delhi Capitals have been completed. In the 10th over itself, the team has completed 100 runs. Right now only one wicket has fallen for Delhi. Marcus Stoinis became the victim of Rashid Khan after scoring 38 runs.
Shikhar Dhawan's half-century
Dhawan's half-century has been reached. Gabbar sets up his quiz with Six. He completed his half-century off 26 balls. Dhawan's bat is speaking in a very important match.
Delhi got its first shock
Delhi Capitals got their first setback. Marcus Stoinis has got the wicket of Rashid Khan. Rashid Khan was doing his second over and Marcus Stoinis (38) was bowled clean by a slow ball.
Powerplay out
The 6-over powerplay has ended. Delhi have scored 65 runs in 6 overs. The special thing is that Hyderabad has not dropped a single wicket so far. Marcus Stoynis and Shikhar Dhawan are frozen at the crease and are leading the innings fast. Marcus Stoinis is playing 33 off 21 balls and Dhawan scoring 30 off 16 balls.
50 runs of the team completed
Delhi Capitals has got a great start today. Shikhar Dhawan and Marcus Stoinis started the innings today. Captain Iyer's strategy seems to be absolutely successful. The team has completed 50 runs in 5 overs. Marcus Stoinis is playing 31 runs off 18 balls.
Marcus Stonis's breakup
In the third over of Sandeep Sharma, Marcus Stoinis was caught by Jason Holder. After that Marcus Stoinis grew up to be absolutely havoc. The next over was brought by Jason Holder and in his over Stoynis hit three fours and a six.

Jason Holder was handed the ball
Jason Holder has brought the second over from Hyderabad. Team captain Warner is trying to take the wicket as quickly as possible. Holder has also impressed with his bowling. He has brought a second over. Shikhar Dhawan hit the first four of the innings on the third ball of Holder's second over.
Delhi's innings started
The Delhi Capitals innings has started. Today Prithvi Shaw has not got a chance in the team. Today Marcus Stoinis has come to open with Dhawan. Delhi Capitals have surprised everyone by changing the open. Marcus Stoinis also has a much better record as an opener. Sandeep Sharma has brought the first over for Hyderabad. Three runs have come from the first over.
Playing xi
SRH: David Warner (Captain), Srivatsa, Manish Pandey, Kane Williamson, Vijay Shankar, Abdul Samad, Jason Holder, Rashid Khan, Shahbaz Nadeem, Sandeep Sharma, T Natarajan.
DC: Shikhar Dhawan, Ajinkya Rahane, Shreyas Iyer (captain), Marcus Stoinis, Rishabh Pant (wicketkeeper), Akshar Patel, Kagiso Rabada, Enrique Nortje, Ravichandran Ashwin, Praveen Dubey, Shimron Hetmyer.
Top order is big tension
The biggest worry for the Delhi team is their top-order batsmen. Shikhar Dhawan (525 from 15 matches) has done well overall but failed to play big innings in the last few matches. While the weaknesses of young Prithvi Saw (228 from 13 matches) have been exposed against better pace bowling, the experienced Ajinkya Rahane (111 from 7 matches) has so far performed in only one match.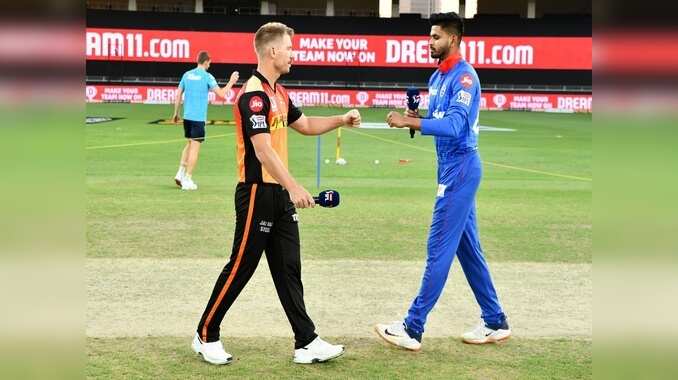 DC vs SRH Qualifier 2: Hyderabad will take the test of Delhi in Delhi, the winning team will cut the final ticket
Account not open nine times
Team coach Ricky Ponting is upset about the openers being dismissed without opening an account. Now nine times in the tournament, Dhawan four, Sav three and Rahane twice returned to the pavilion without adding anything to their account. Except for the first qualifier match against Mumbai Indians, the bowlers of the team have now done well. Kagiso Rabada (25 wickets), Enrich Nortje (20) and Ravichandran Ashwin (13) have done well in most matches.
Head to head in IPL
Total Matches 17
SRH won 11
DC won 6
Head to head in 2020
Total Match 2
SRH won 2
DC won 0
Top performer
Batting-DC: Shikhar Dhawan (15 matches, 525 runs), SRH: David Warner (15 matches, 546 runs)
Boling-DC: Kagiso Rabada (15 matches, 25 wickets), SRH: Rashid Khan (15 matches, 19 wickets)