Sydney
Marnus Labuschen
And with the help of Will Pukowski's half-century, Australia made a reliable start to the series for the first time in the third Test cricket match on the rain-affected first day, scoring 166 for two on Thursday. Due to rain, the game could not be played for about four hours in the middle and despite extending the playing time, only 55 overs could be put in a day.
Centenary partnership of Labushen and Pukowski
Labushen is currently playing for 67 runs while Pukowski, playing his first Test match, scored 62 runs, taking advantage of two lives from Indian wicketkeeper Rishabh Pant. David Warner (five), who recovered from injury, was caught in the slip by Mohammad Siraj in the fourth over. Pukowski and Labushen then shared a 100-run partnership for the second wicket.
Steve Smith looks in color
Steve Smith (31 not out) also hinted to play a big innings for the first time in the series. Smith and Labushen have already shared a 60-run partnership for the third wicket. Australia were able to touch 200 runs only once in the first two Tests, but on the pitch which is conducive to batting at the Sydney Cricket Ground, they are looking to score big.
National anthem played before match, Mohammad Siraj gets emotional
Indian bowlers showed color
The Indian bowlers again bowled from the line and length but the Australian batsmen showed persistence while in the meantime luck did not support the Indians. Young batsman Pukowski got life on a personal total of 26 and 32 runs. On both occasions, wicketkeeper Rishabh Pant gave up his easy catches. Apart from this, she also refrained from running out once. He played 110 balls and hit four boundaries before being lbw to Navdeep Saini, playing his first Test match.
First session washed by rain
Due to rain, only 7.1 overs were played in the first session and in the meantime, Mohammad Siraj got Warner to the first success of India by getting caught by Cheteshwar Pujara in the slip. India had to wait a long time for the next success due to rain and poor fielding.
Pant left two catches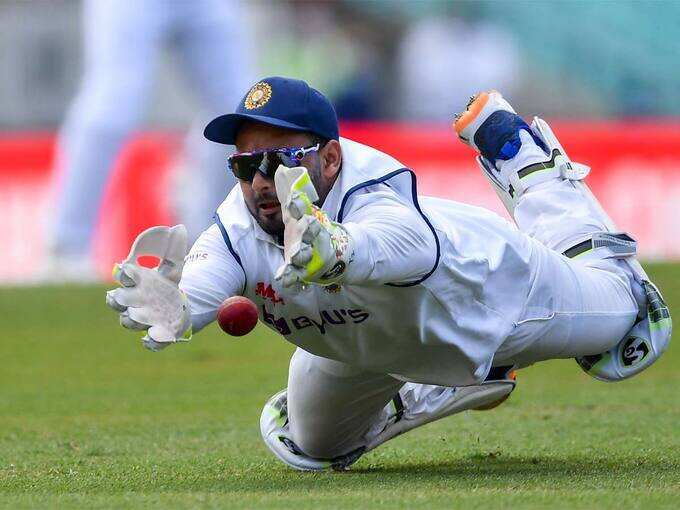 When the game started at 3 pm local time, Ravichandran Ashwin came on the attack after 13 overs. He would have got the wicket of Pukowski but Pant gave up an easy catch. Shortly after this, the young opener was caught behind the wicket on the short pitch ball of Siraj but again the ball slipped through Pant's hands.
Pukowski completes half century
Pukowski took advantage of this and completed the half-century with fours off the first two balls made on Saini's Test debut. The fast bowler, however, took his first Test wicket as Pukowski, who missed an attempt to flick the full-length ball after tea. Labushen impressed with his impressive drive and made several spectacular shots. He faced the pace and spin attack effortlessly and completed his ninth Test half-century by sending Siraj's ball for four runs off a beautiful cover drive. He has so far hit eight fours facing 149 balls.
War between smith and ashwin
At no point did Smith feel that there was some pressure on him to score only 10 runs in the first two games. He hit fours off off drive and on drive and then strengthened his confidence by sending Ashwin for four runs. Ashwin however troubled him on one or two occasions. Ajinkya Rahane handed his fourth bowler Saini the 31st and Ravindra Jadeja the 49th over.
Warner cheaply out
Jasprit Bumrah (30 runs in 14 overs) and Ashwin (56 runs in 17 overs) are awaiting success. Siraj took 46 runs and Saini took one wicket for 31 runs. In the morning, Australia won the toss and decided to bat first. Warner, who returned after recovering from an injury, showed emotion for a few overs but found it expensive to play the ball that went out of Siraj's off stump. Shortly thereafter, the rain came, causing the game to stop for the next four hours.
Two changes in both teams
Both teams have made two changes to their playing XI. India has replaced Rohit Sharma in place of Mayank Agarwal and Navdeep Saini in place of injured Umesh Yadav. This is Saini's first Test match. The Australian team included Warner in place of Joe Burns and Pukowski in place of Travis Head. The four-match series is still 1–1.