Highlights:
In the third Test match between India and Australia in Sydney, as well as discussions about racial comments
Off-spinner Ravichandran Ashwin admits that this is not the first time such behavior has happened in Sydney.
Racial comment on Siraj on fourth day of Sydney Test match, game stopped for some time after complaint
Harbhajan Singh said, it has happened many times to him that he was targeted for his religion.
Sydney
The third Test match released in Sydney between India and Australia is under discussion with the game as well as racial comments. Indian players, especially Mohammad Siraj, were targeted in the match. After the fourth day of play, Ashwin expressed anger at the virtual press conference on Sunday, saying that it shows the upbringing of a person.
Off spinner of team india Ravichandran Ashwin Admitted that this is not the first time such behavior has occurred in Sydney. Ashwin said after the end of the fourth day's play that it had been happening in Sydney earlier.
Read, Indian players complain of ill-treatment of spectators, CA apologizes
Ashwin said, 'As a society we have developed a lot and in this way such behavior is quite wrong. Somewhere it reflects our upbringing and our point of view of things. We should deal with it strictly and take care that it does not happen from the future. '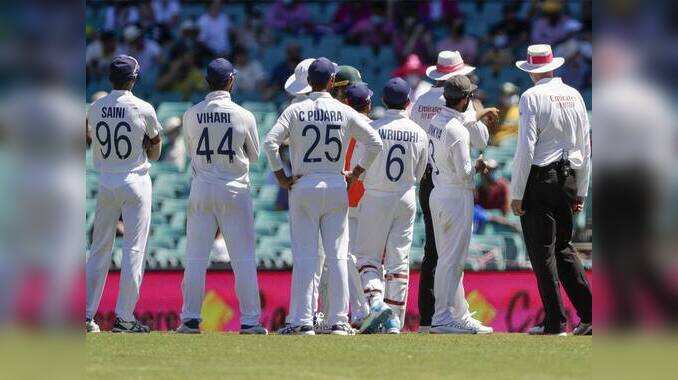 Kidney test: racist comment on Siraj again, offending audience off the field
He said, 'This is my fourth tour in Australia and earlier such comments have been happening here. Audiences are particularly indecent in Sydney.
Ashwin said, 'Many viewers in Sydney, especially those sitting in the front row, often say the wrong things. Due to this, the players are also trapped. The players have reacted but it is not their fault.
Read, Racist remarks on Indian players, Bhajji said – this happened to me many times
Ashwin said that the attitude of the audience was much worse this time. They have been abusing in the past, but this time they made racist comments.
The Indian team on Saturday lodged an official complaint against the attitude of the spectators. Ashwin said, 'You know we had lodged an official complaint yesterday. For this reason, the umpires also said that if something like this happens, they should be told so that any action can be taken.
Earlier, Harbhajan Singh also wrote on social media that it has happened to him many times, that he was targeted for his religion.
On the third day of the match, Indian team players Jaspreet and Mohammad Siraj made racist comments. A complaint in this regard was also filed by the Board of Control for Cricket in India. The same incident was repeated on the fourth day of the match on Sunday when Siraj once again suffered from this indecency. The game was then halted and six spectators were later evicted by security personnel.