Kanpur
Former Indian opener Wasim Jaffer took to Twitter to post a picture of Axar Patel, who played a key role in New Zealand's first innings bundle of 296 runs in the Kanpur Test. He shared a picture of Axar Patel, who took 5 wickets, in which he was playing R. Showing the ball to Ashwin, he is seen having some conversation. Along with this, in the second picture, the ball is shown zoomed, on which the date is written wrongly.

Actually, as a gift of memory of Five Wicket Hall, writing the date on the ball kept it with you. Although the ball should have been on November 27, the month was wrongly written on it. October was written instead of November. Jaffer tweeted – Axar Patel made just one mistake today by writing the wrong date on the ball. 27th November is Bapu (Akshar Patel is fondly called)…


To this Axar Patel replied – I did not do this. Written by Suryakumar Yadav Reply Jaffer wrote – Oh! So now what punishment should Suryakumar Yadav get? Present him to The Wall (coach Rahul Dravid)? Here comes Suryakumar Yadav's reply with an emoji – I do this every day…


Axar Patel 5th five-wicket haul: Five-wicket haul for the 5th time in 4 matches, Axar Patel did wonders by beating New Zealand
It is noteworthy that Akshar Patel's spin is showing amazing against the New Zealand batsmen on the Green Park pitch in Kanpur. Akshar, playing his fourth Test match of his career, took 5 wickets on the third day of the first Test match of the series. This is the fifth 5-wicket haul of Axar's Test career. Akshar Patel holds the record for taking most 5 wickets as an Indian in the first 4 Test matches. Narendra Hirwani is at number two in this list.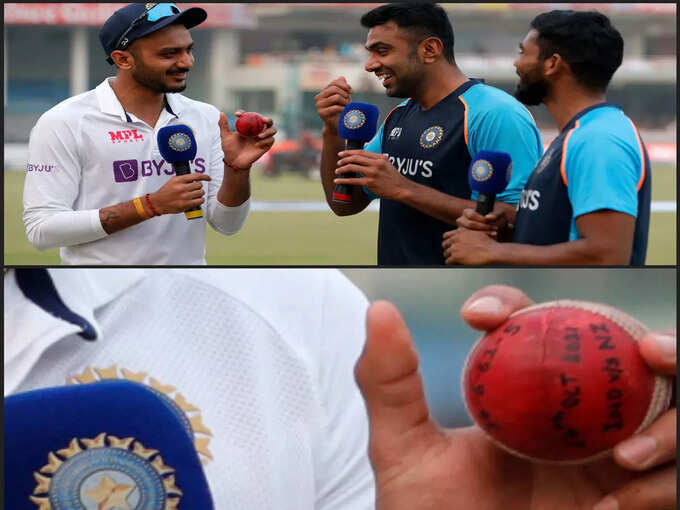 ,