Mumbai: There is a ruckus in the politics of Maharashtra regarding these two Hindutva. The three parties are fiercely trying to prove themselves as the best on the issue of Hindutva. Among them, the names of Shiv Sena, BJP and MNS are prominent. At present, there is a fierce battle between Shivsena and MNS over the issue of Hindutva. MNS chief Raj Thackeray and Maharashtra Environment Minister Aaditya Thackeray have both announced their respective visits to Ayodhya. Let us tell you that in the month of June, Aditya Thackeray will take blessings after visiting Ramlala in Ayodhya. At the same time, Raj Thackeray himself is also going to go to Ayodhya in the month of June. In such a situation, Shiv Sainiks have already started putting up posters of Aditya Thackeray in Ayodhya, the city of Shri Ram. Recently, a poster put up by Shiv Sena read, 'The real is coming, beware of the fake! Long live Rama'. Posters put up by Shiv Sena are currently a topic of discussion in the city.


Raj Thackeray had fiercely targeted the Maha Vikas Aghadi government of Maharashtra on the issue of loudspeakers. Apart from this, a warning was also given regarding the removal of loudspeakers from all the mosques. In view of the issue of Hindutva raised by MNS, these posters have now been put up in Ayodhya in support of Aditya Thackeray and in opposition to Raj Thackeray.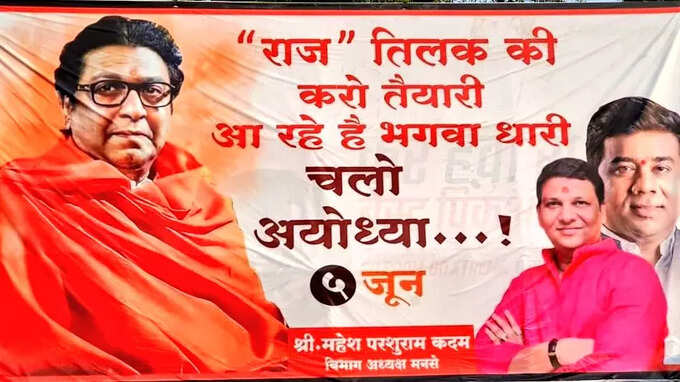 MNS counterattack
At the same time, MNS has also retaliated on these posters put up by Shiv Sena in Ayodhya. Yashwant Kildar, an officer of Maharashtra Navnirman Sena, said whose Hindutva is real and whose is fake. This is currently seen and understood by the whole country. He said that Shiv Sena has raised the green flag leaving the saffron flag of Hindutva for power.

Raj Thakeray News: Will not allow Raj Thackeray to enter Ayodhya, BJP MP Brij Bhushan Sharan Singh gave this big threat
Our Hindutva is like gold
Maharashtra Navnirman Sena has strongly attacked Shiv Sena, saying that the Hindutva of Shiv Sena, which sits on the lap of Congress and NCP for the post of Chief Minister, is fake. Whereas Raj Thackeray's Hindutva is as real as gold. Therefore, who is real and who is fake, it should not be decided by Shiv Sena but by the public.

Raj Thackeray Ayodhya: There is a competition in the Thackeray family for the claim of Hindutva, know how the preparations are going on in Ayodhya
Whose Hindutva is important?
As the municipal and other local body elections are approaching in Maharashtra. At the same pace, the issue of Hindutva is also intensifying. Raj Thackeray, who has taken an aggressive role on the issue of loudspeakers, has decided to visit Ayodhya on June 5. After which Aaditya Thackeray also announced to go to Ayodhya. At the same time, in the midst of all this, NCP leader Rohit Pawar visited Ayodhya on Saturday and had darshan of Ram Lalla. In this race of Hindutva, NCP also does not want to keep itself behind.