Mumbai: Will Maharashtra Navnirman Sena (MNS) chief Raj Thackeray be arrested today? The police on Tuesday registered a case against Raj Thackeray on charges of provocative speech in Aurangabad. Meanwhile, Thackeray's ultimatum to remove loudspeakers from mosques also ends today. In such a situation, today is going to be a day of political upheaval in Maharashtra. The MNS chief has announced that if the loudspeakers are not removed from the mosques, then his workers will recite Hanuman Chalisa there. After this warning of Raj, the entire police department has become active.

So today Raj Thackeray will be arrested?
Meanwhile, a senior police officer told our affiliate newspaper The Times of India that Raj Thackeray will not be arrested immediately in this case. He said, 'We have registered a case against the criminal Thackeray in this case under bailable sections. The matter is under investigation now and there is no need to arrest him immediately. Whether Raj Thackeray will be arrested or not will be a political decision.

LIVE: Raj Thackeray's ultimatum over loudspeakers ends Hanuman Chalisa outside mosque in Navi Mumbai

Case registered against Raj Thackeray under these sections


The Aurangabad Police has registered a case under sections 153 (provocative speech intended to incite violence), sections 116, and 117 of the Indian Penal Code (IPC), Maharashtra Police Act 135 (Breaking Prohibition).


Precautionary steps against 15 thousand people


Police has taken precautionary measures against 15,000 people including MNS workers. Notices were sent to prominent leaders and about 13 thousand people under section 149.

People reading Hanuman Chalisa in local train at 7 am

Know the stand of the state government
The state government said it would abide by the Supreme Court's 2005 decision on the issue of loudspeakers. The state government has urged the Center to issue guidelines for loudspeakers. Warned of strict action against law breakers.

MNS workers stand
After the announcement of Raj, MNS workers have also stood firm. Party leader Sandeep Deshpande said that we are ready for struggle if Raj Thackeray is arrested. He said that MNS workers will follow Raj Thackeray's ultimatum to remove ledspeakers from mosques and there has been no change in the matter.

Raj reminds brother Uddhav of Balasaheb Thackeray
Raj Thackeray said, 'I appeal to the Chief Minister of Maharashtra that years ago Shiv Sena chief Hindu Hriday Samrat Shri Balasaheb Thackeray had said that all loudspeakers need to be switched off. Are you going to follow it, or are you going to follow the non-religious Sharad Pawar who is responsible for keeping you in power? Tell the people of Maharashtra what is going to happen?' Raj ended his appeal with the new slogan, 'Now or never.'

Mumbai Police Commissioner took charge
Seeing Raj's announcement, Mumbai Police Commissioner Sanjay Pandey himself has taken the lead. He went to different police stations of the city this morning to review the law and order. On the other hand, security arrangements have been tightened outside the house of MNS Chief Raj Thackeray.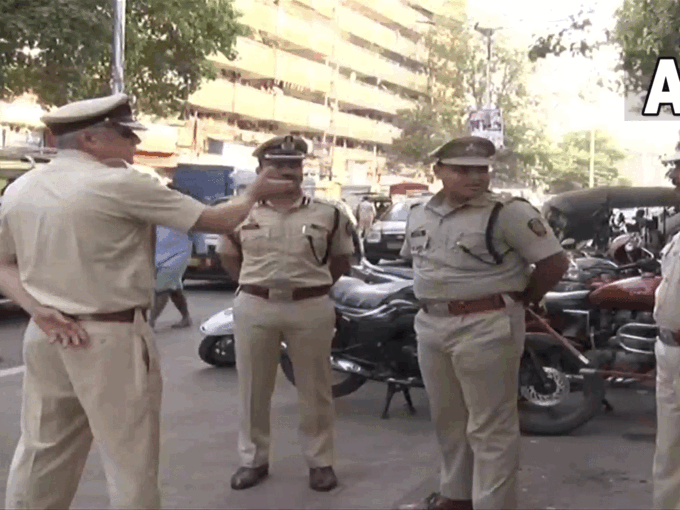 Police alert on loudspeaker dispute, 7 thousand soldiers including 350 officers deployed in Thane
Thane Police has become very alert regarding loudspeaker and Hanuman Chalisa reading. A total of 7 thousand 850 police personnel, including 350 officers, have been deployed in the city to ensure that no untoward incident takes place in the Commissionerate area and peace is maintained. On behalf of the police, 1404 people have been warned by sending notices. The police have made it clear that any person who tries to create a dispute between the people of two communities will not be spared by the police administration.

Policemen's holidays canceled
According to Joint Police Commissioner Dattatreya Karale, at present, a ban order has been implemented under 137 (1) (3) of Section 144 of the Criminal Procedure Code in the Police Commissionerate. The police have appealed to the people not to gather together without any reason. Apart from police personnel and officers, 9 platoons of SRPF and 300 home guards have also been pressed into service. Leaves of all policemen have been cancelled. It is to be known that by raising the issue of loudspeakers on mosques, Raj Thackeray has in a way challenged the Mahavikas Aghadi government.