Highlights
Priyanka Gandhi reached Varanasi on Sunday, changed her style
She went to visit the temples and then reached the rally site
There was a tilak of sandalwood and roli on the forehead, a garland was lying around the neck.
Priyanka Gandhi started her speech with Devi Mantra
Lucknow
Varanasi, the parliamentary constituency of Prime Minister Narendra Modi and the focal point of Purvanchal, has become an electoral battlefield even before the 2022 Uttar Pradesh assembly elections. On Sunday, Congress General Secretary Priyanka Gandhi started her election campaign by holding a Kisan Nyay rally here. Priyanka Gandhi reached Baba Vishwanath temple and Annapurna Devi temple before reaching the rally. Everyone was surprised to see his costume in the rally. Now BJP has targeted about it.
Priyanka Gandhi, who reached Varanasi with Chhattisgarh Chief Minister Bhupesh Baghel, first got her head bowed in Baba Vishwanath's court. After this, visited Maa Annapurna Temple and then Adishakti Kushmanda located in Durgakund. The rally started with Mangalpacharan. The chants of Har Har Mahadev kept resonating during the welcome with Vedic chants.
BJP took aim
BJP has attacked Priyanka Gandhi's fast, garland and commentary. The official Twitter handle of BJP tweeted, 'Keep fasting, chanting cheers, wearing rudraksh garland Priyanka disguised herself as soon as UP elections came.'
attack on congress through cartoon
A cartoon has been posted with this tweet. In the cartoon, Priyanka Gandhi, standing in front of the mirror, has a Rudraksh garland around her neck. There is a tilak on the forehead. She is wearing a sari on her body, on which she is painting saffron. Sonia Gandhi standing behind looks surprised, Priyanka Gandhi is saying, 'Just till elections, mummy'.
'Congress on the path of Hindutva'
In this cartoon some Congress leaders are standing on the side. It reads, 'Congress on the path of Hindutva? Priyanka's fast, Maa Durga's cheers and Rudraksh garland around her neck.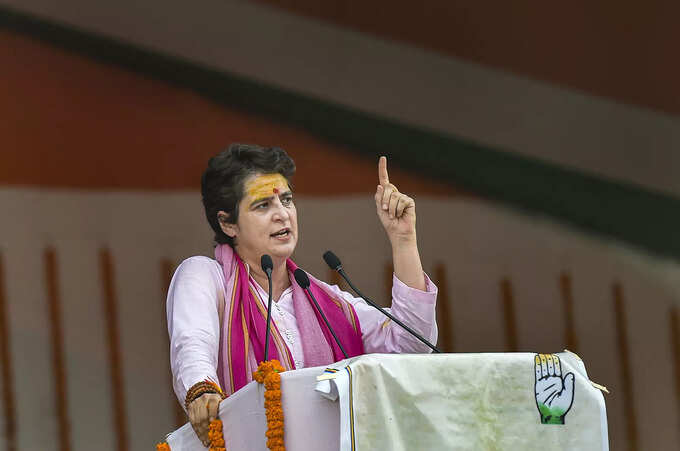 .