Highlights
Chandrashekhar Azad extended his hand of friendship towards BSP supremo
Will make Mayawati PM if you cooperate in UP elections: Chandreshkhar
I am the leader of the poor of the entire country, not just Dalits: Azad
Lucknow
Azad Samaj Party President Chandrashekhar Azad has said that if BSP supremo Mayawati supports him in the 2022 elections, he will make her the Prime Minister of the country in 2024. We have that potential within us. Chandrashekhar claimed that out of 20% Dalit votes in UP, 17 per cent is going to go to his party. He also launched a scathing attack on Chief Minister Yogi Adityanath.
Chandrashekhar, who came to attend the program of a TV channel on Sunday, said that Mayawati has rejected me outright. His party is doing its job and we are doing ours. The political legacy of Kanshi Ram is with Mayawati and we are handling the theoretical legacy. We followed all the principles of Kanshi Ram. Sister ji is now retired.
UP Chunav: BJP has found a big political weapon to kill Mayawati, preparing to bet on Baby Rani Maurya against BSP Chief
'I am not only a leader of Dalits but of every poor'
Bhim Army chief said that I am not only a leader of Dalits but of every poor in the country. Every poor sees Chandrashekhar in himself. I want to be a companion and sympathizer of people's happiness and sorrow because leaders cheat. 90 percent of the people in politics are coming with only the thinking that they will get position, money and power whereas we have come with the idea of ​​change. Even after 70 years of independence, Dalits are cleaning the dirt by getting into the gutter and every year there are many deaths but no one is going to ask them.

UP Chunav: Congress may release the first list of candidates for Uttar Pradesh elections next week
'No one has freedom of speech in Yogi government'
Chandrashekhar also attacked the Yogi government. He said that today Uttar Pradesh has become the number one state in the incidents of Dalit atrocities, women crime and murder. No one has the freedom to speak the truth in this government. When the media speaks, their institutions get raided. Before the elections, BJP calls Dalits as Hindus and after winning the elections, it exposes these Dalits. Our organization is everywhere. We will contest all the seats in UP.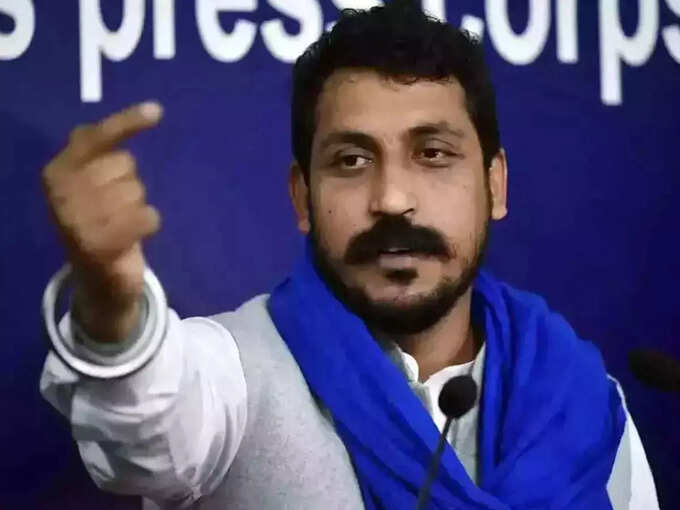 .