Highlights:
A bite that makes the eyes look beautiful
Tips to keep the bite longer
Really Bite Not good to see when it comes out. On top of that there is also masila all over the face. It can be annoying to see if this is beauty or not. The whole face is also greasy without being over fresh. Many women endure this problem or stop biting. But the truth is that any woman can be beautiful if bitten.


This pile they are immersed in romantic .. This is the suit lipstick for them ..
The eyes look very attractive and beautiful. Biting has been practiced in India since ancient times. Women in particular like to get bitten. This makes the eyes look very beautiful. Biting is not an easy task. However, if you follow these tips, you can keep the bite very easy and beautiful. Here is a step by step process for you. If this process is followed then surely the bite can be avoided. This will make your eyes look more beautiful. You will not have any trouble over. But let's look at that process again.
First step:

You must first select a good bite. Keep an eye out for any bite to the eye for a long time. Most women have more water coming out of their eyes. Especially such people should select a good bite. So you choose a good quality bite.
Second step:

Take a perfect bite on the water line and apply. Put your finger under the eye in front. You slowly pull the water line down. Then slowly place the bite on the water line of your eye. Applying it on the water line below makes it look perfect. Then work your way up from the bottom to the top. However it is up to you how much broad you want to keep.


What to eat or not to digest .. Do this ..
Some women prefer to be bitten lightly. Others prefer to keep it a bit thick. So it's up to you how to keep it tight. It's best if you proceed as you see fit.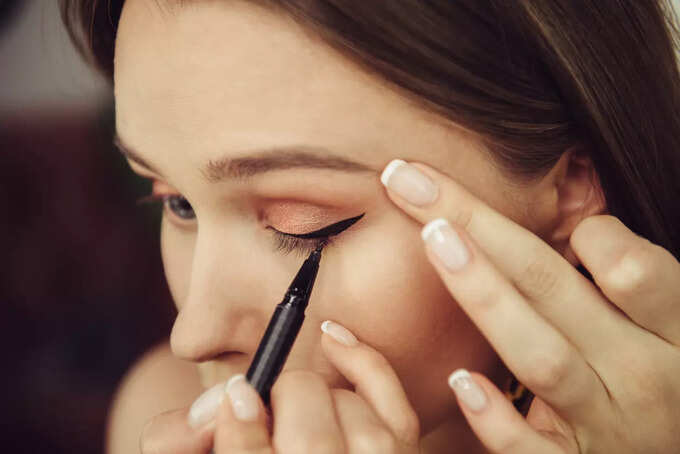 Third step:

Now take a brush and carefully place your bite in an order. Doing so gives a good look. If you do not have a brush, you can adjust the earbud using your finger. Slowly you spread your bite like this. Here comes a good look.
Fourth step:

Now take the black eyeshadow and write with the earbud but with the brush but with the finger. Putting the eyeshadow like this will bite you for a long time.
Fifth step:

Now close your eyes .. Put light on your eyelids too. Doing this will make your eyes look bigger. It is also good to apply on the water line above.


Treadmill, elliptical .. It is better to exercise on anything ..
Sixth step:

Take a compact or powder and apply the powder on the eye with a makeup sponge. Doing so will also cause all of the sweat to come off. This allows the bite to last longer without spilling over. If you follow these steps, you will be able to bite beautifully and last longer. So follow these easy steps while biting and look even more beautiful.
Note: These details are provided by health experts and studies. This article is just for your understanding. The best way is to consult a doctor for any minor problem related to beauty and health. Can notice.