Expansion
Congress leader Rahul Gandhi reached Delhi's Sarai Rohilla railway station at 8 pm on Thursday. Rahul has left by train to come to Udaipur with about 74 party leaders. He will take part in the Chintan Shivir starting here tomorrow. Two coaches were prepared in advance for all the leaders including Rahul Gandhi in Mewar Express. Earlier in the train, the delegation of the Coolie Association spoke to Rahul Gandhi and apprised him of their problems. Rahul has assured them of help.
Rahul Gandhi will arrive at Udaipur City railway station tomorrow morning at 7 am after traveling about 744 km. Here he will be warmly welcomed by the Congress leaders and office bearers. It is being told that other big leaders including Chief Minister Ashok Gehlot can also come to the station to welcome him. From here, Rahul Gandhi will reach Taj Aravali with a convoy of cars. Chintan Shivir will be organized in Taj Aravali itself. In this hotel, arrangements have been made for the stay of many other big leaders including Sonia Gandhi, Rahul Gandhi, Priyanka Gandhi Vadra and former PM Manmohan Singh.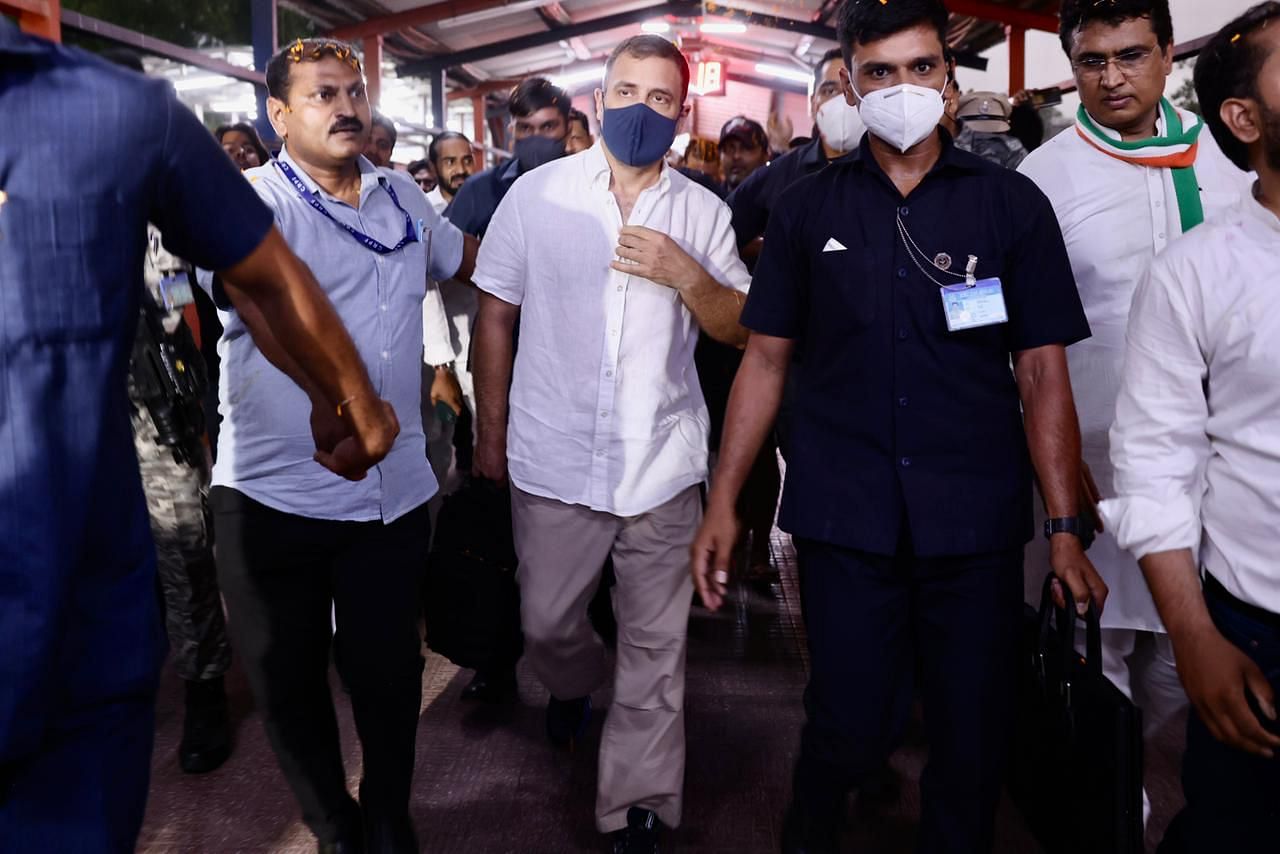 Priyanka-Sonia will come by private plane

Congress President Sonia Gandhi and Priyanka Gandhi Vadra will reach Udaipur on Friday morning by private plane. Chief Minister Ashok Gehlot is in Udaipur since Wednesday afternoon. On the other hand, State President Govind Singh Dotasara, State in-charge Ajay Maken, Chairman of the absence prosecution and Pukhraj Parashar, close to the Chief Minister, had reached Udaipur on Tuesday itself.
Congress's contemplation camp will start from tomorrow

Congress's Chintan Shivir will start from tomorrow 13th and will continue till 15th May. Its preparations are almost done. Four helipads have been built in Udaipur. Apart from the railway institute and airport, helipads have also been built around Ananta Resort, Lemon Tree and Taj Aravalli. Apart from this, a dome has been prepared in Taj Aravali. It has a seating arrangement for more than 500 people.
What will be the program of the camp?

Tomorrow at 2 o'clock in the afternoon there will be a Chintan Shivir with the address of Congress President Sonia Gandhi. After this, the group dialogue between the leaders will start. It will go on till 5 pm. The group dialogue will start from 10:30 am on the second day itself. It will go on till about 2.30 pm. After this, there will be a meeting of six committees in the night. The programs of Chintan Shivir will start from 11 am on the last day on 15th May.

Police administration also alert

More than 400 leaders will gather in Udaipur from tomorrow to participate in Congress's Chintan Shivir. The Rajasthan Police is also on alert regarding their security arrangements. ADG Law and Order Hawa Singh Ghumaria himself will be present in Udaipur. Apart from this, more than half a dozen IPS officers have also been posted in the district.