Expansion
After a long day of high voltage drama, finally BJP spokesperson Tajinder Bagga reached his home in Delhi late in the night. Earlier in the night itself, Bagga was produced at the magistrate's house in Dwarka Court in Gurugram.
After being relieved and released from the magistrate, Bagga reached his home with the supporters. Here the workers welcomed him by lifting him on his shoulders. During this, while addressing the media, Bagga said that those people who feel that they can do anything with the help of police, I want to tell them that BJP workers will not be afraid of anyone. I thank Haryana, Delhi Police and all BJP workers who supported me. Delhi Police has registered an FIR and the culprits will be punished.
On Bagga's return home, Delhi BJP President Adesh Gupta said that this is the victory of truth, democracy and justice. BJP workers will continue to fight for justice. We are not afraid of anyone. We are going to take to the streets against injustice.
Earlier, after the arrest of BJP leader Tajinder Pal Singh Bagga by Punjab Police, Delhi Police brought him back from Kurukshetra to Delhi. Before Bagga was produced before the judge, Delhi Police underwent medical examination at Deendayal Upadhyay Hospital. The police brought him straight from there to the Janakpuri police station and then got him medically done late in the evening before producing him at the judge's residence in Gurugram. After that the police team left for Gurugram with Bagga.
On the other hand, BJP workers protested outside Janakpuri police station against Bagga's arrest. During this, the workers also raised slogans against Arvind Kejriwal and Punjab Police.
Bagga was taken into custody under the entire process

Mohali DSP (D) KS Sandhu faced sloganeering and protest outside Janakpuri police station. During this, he said that the Punjab Police followed the procedure to take Tajinder Pal Singh Bagga into custody and the matter is pending in the court.
What did CM Manohar Lal say?

Haryana CM Manohar Lal Khattar on BJP leader Tajinder Pal Singh Bagga's arrest: Punjab Police said they will approach the court, it is up to them. Eventually the Haryana Police handed him over to the Delhi Police. Both Punjab and Delhi Police can take it from there. The CM said that the Haryana Police got alerted and stopped them at Kurukshetra near Pipli. Since we got the information from Delhi, it was our duty to hand them over to Delhi Police. Meanwhile, they reveal their identity that they are Punjab Police and are taking her with them. We have done our job.
On the statement of Tejinder Bagga's father, a case of kidnapping has been registered against Punjab Police personnel at Janakpuri police station. Delhi Police has taken three Punjab Police personnel into custody. Delhi Police was told by the Punjab Police that the charges against Tejinder Pal Singh Bagga were 153-A (promoting enmity between different groups on grounds of religion, caste, place etc.), 505 (publishing or disseminating statements, rumors or reports) And a case was registered under sections like 506 (criminal intimidation).
Bagga's father Preetpal Singh Bagga said that this morning 10-15 policemen came to our house and dragged Tajinder out. When I picked up my mobile phone to record the video of the incident, the police took me to another room. Here the police punched me in the face.
Delhi Police's lawyer said…

PB Gupta, counsel for Delhi and Punjab Police said that the Delhi Police issued a search warrant from Dwarka Court and brought back Tajinder Pal Singh Bagga but he was not produced in the court on time and we are the duty magistrate to produce him. be waiting for Bagga was given notices to join the investigation 2-3 times but he did not do so, so the police arrested him.
BJP is attacking Kejriwal after Bagga's arrest. Delhi BJP leader Kapil Mishra tweeted that Tajinder Bagga was arrested and taken away by 50 Punjab Police personnel from his house. Tajinder Bagga is a true Sardar. He cannot be intimidated or weakened by such antics. Targeting the Kejriwal government, Mishra said that why so much fear of a true Sardar?

Haryana BJP leader Arun Yadav has attacked Delhi Chief Minister Arvind Kejriwal on this matter. He said that Kejriwal is scared of Tajinder Bagga. Now taking the help of Punjab Police. By tweeting, Yadav has asked Home Minister Amit Shah to take cognizance of the matter.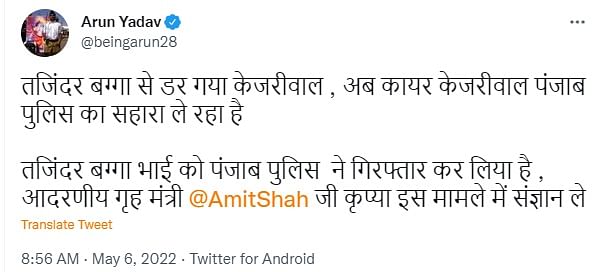 Aam Aadmi Party MLA Naresh Balyan said that BJP leader Tajinder Bagga has been arrested by the Punjab Police. Bagga had threatened Chief Minister Arvind Kejriwal.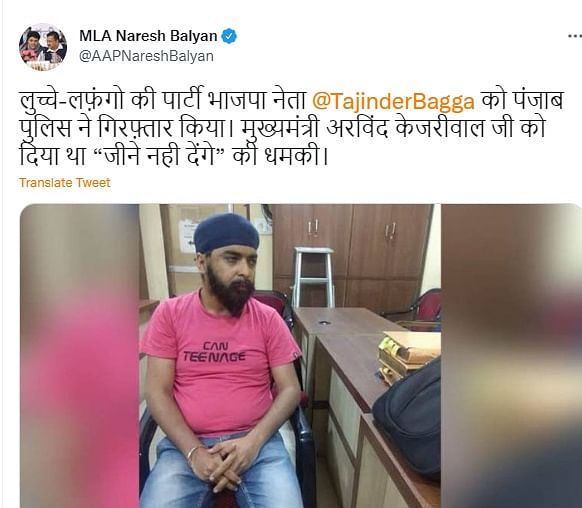 Kumar Vishwas – Punjab has handed over the crown to your turban, not to any dwarf Duryodhana
After the arrest of Bagga, Kumar Vishwas, who was the leader of Aam Aadmi Party, has taught the lesson of religion of politics to Punjab CM Bhagwant Mann. By tweeting, he said that dear younger brother Bhagwant Maan Khuddar Punjab never allowed any insecure dictator of Delhi to play with his power in 300 years. Punjab has handed over the crown to your turban, not to a dwarf Duryodhana. Don't insult the tax money of the people of Punjab and their police… Turban Sambal Jatta.
Allegations of controversial tweet against Kejriwal
Tajinder Pal Singh Bagga is accused of making controversial tweets against Kejriwal. In this case, a case was registered against him by Mohali Cyber ​​Crime. The case was registered on the complaint of Aam Aadmi Party (AAP) spokesperson Sunny Ahluwalia. Bagga is accused of threatening to kill Kejriwal. A controversial tweet in this regard has been cited by Bagga after Kejriwal's statement on the film 'The Kashmir Files' in the Delhi Assembly. The complainant alleges that Bagga made several tweets one after the other in a threatening tone to Kejriwal.
Punjab Police came without information
In a tweet, Bagga had said that not one but 100 FIRs should be lodged against me, but if Kejriwal calls the massacre of Kashmiri Pandits false, then I will protest. If they laugh with laughter at the massacre of Kashmiri Pandits, I will protest. I am ready for whatever consequences I have to face for it.
what did kejriwal say
Delhi Chief Minister Arvind Kejriwal, while addressing the budget session, attacked the BJP's demand to make the film 'The Kashmir Files' tax free. He had said that instead of making it tax free, put the film on YouTube.
There is a video recording of the arrest – SP
On the arrest of Tajinder Bagga, Manpreet Singh (SP, Punjab Police) said that there is a video recording of his arrest. We have FIR registered in Cyber ​​Crime Mohali. We gave notice, arrested Bagga at 9 am today for not joining the investigation.
Court issues search warrant to Janakpuri Police
A Delhi court has issued a search warrant to SHO Janakpuri to trace BJP leader Tajinder Pal Singh Bagga. The SHO told the court that Bagga's location was found in Thanesar, Kurukshetra, Haryana.
Tajinder's father thanks Delhi Police
Tajinder Pal Singh Bagga's father Preetpal Singh says that a complaint has been lodged with the police regarding the beating of the Punjab Police personnel. Haven't spoken to Tajinder yet. Thanks to Delhi Police for their cooperation.
Tajinder's mother said that it is not right to make fun of someone's pain
BJP leader Tajinder Pal Singh Bagga's mother Kamaljit Kaur has said that it is not right to make fun of someone's pain and a film like Kashmir Files. You should apologize for this, but he has not apologised. She said, Tejinder has said that BJYM will not let him live in peace.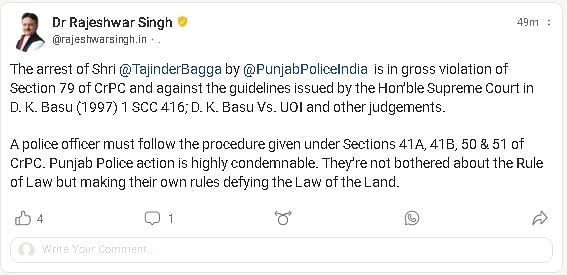 BJP's protest against AAP
BJP workers protest outside Aam Aadmi Party's office in Delhi. The activists protested against the arrest of Tajinder Pal Singh Bagga by the Punjab Police. According to media sources, the workers broke the barricades of the police.
ASG said – no one was arrested from Punjab Police
Additional Solicitor General (ASG) Satyapal Jain, representing Delhi Police in the BJP leader Tajinder Pal Singh Bagga case, has said that a report was lodged by Tajinder's father at Janakpuri police station that some people forcefully picked up his son. Delhi Police got a search warrant in the case from Dwarka Court. After this, the Delhi Police came to know that the Haryana Police had taken him into custody from Pipili. After this, Delhi Police has brought Tajinder back from there. He did not inform the Delhi Police before arresting Tajinder and was taken into custody. Apart from this, no one has been arrested or detained by the Punjab Police. The hearing in the matter will be held tomorrow at 10 am.