Belgaum: The last rites of minister Umesh Katti, who passed away due to heart attack, were performed at his garden in Bagewadi, Hattur, Bella, on Wednesday night. Thousands of fans, factory workers, leaders of various political parties of the country, activists, patriarchs, friends and family witnessed Umesh Katti's final journey. Mothers of the village sent the 'hero' away while pressing the tears that were pouring down into their clothes.

The mortal remains were brought to Belgaum's Sambra airport by HAL in Bangalore, much later than scheduled. People gathered on both sides of the road from the airport to Bagewadi, the bellad of Hukkeri. The workers stood idly by to meet their master's last eye in his sugar mills. Meanwhile, all preparations were made for the last rites in the garden. Swamiji performed the last rites as per Veerashaiva Lingayat tradition.

Earlier, Chief Minister Basavaraja Bommai paid his last respects to the mortal remains of Umesh Katti. Later, former Chief Ministers BS Yeddyurappa, Siddaramaiah and Cabinet Minister Basavaraja Bommai paid floral tributes. Many priests and leaders were there. After this, the police lit the Kushala grove and paid homage to the government. After paying official respects, the public was allowed to have a final darshan for some time. The body was taken from Vishwaraj Sugar Factory to his residence in Bagewadi, Bella. There the family members and Swamijis of the Lingayat community performed the last rites. Later, the last rites of pilgrimage were performed for more than two hours in his garden and the body was cremated.

Umesh Katthi, who was also the senior most leader of the Vidhan Sabha, had the distinction of being elected as an MLA 8 times. He entered the Legislative Assembly at the age of 25 under the guidance of his elders to fill the vacancy left after his father's death and never looked back.


Umesh Katti Death | Background of Minister Umesh Katthi's death: Today is a holiday for government offices, schools and colleges across Belgaum district
A holiday has been declared for schools, colleges and government offices across Belgaum district on Wednesday and Chief Minister Basavaraj Bommai has ordered three days of mourning in the state. In this background, BJP's Janotsava program has been postponed.
Umesh Katti Death: Congress Legislative Council member Prakash Hukkeri shed tears remembering his departed friend Umesh Katti.
On Tuesday night, Umesh Katthi collapsed due to a heart attack at his residence in Dollars Colony, Bangalore and was admitted to MS Ramaiah Hospital. Doctors spent half an hour trying to save him in the intensive care unit. However, before reaching the hospital, his heart stopped beating. Artificial heart pumping (CPR) was attempted in the emergency unit. However, his heartbeat did not return. He was officially declared dead around 11:30 pm.


Umesh katti Minister Umesh Katthi passed away due to heart attack
Chief Minister Basavaraja Bommai, who came to the hospital late at night, buried the dead body of Umesh Katti, Basavaraja Bommai relived the memories. Umesh Katti was moved to tears as he talked about the path he had walked, the work he had done and his friendliness. Unable to stop the rising pain, he burst into tears and said, 'The voice of North Karnataka has stopped…'.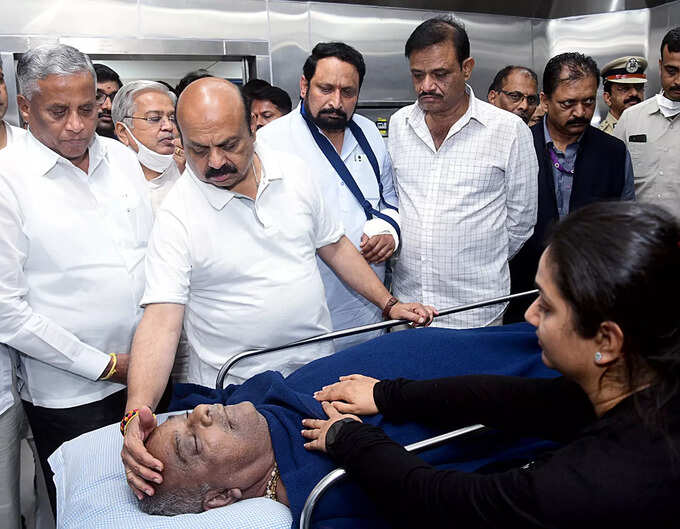 A strong proponent of North Karnak Development:
Umesh Katthi is prominent among those who have condemned the discriminatory attitudes towards North Karnataka by the ruling governments.
Umesh Katthi, a tough leader who entered the Legislative Assembly at the age of 25, has left a mark on the public.
Even after the construction of Suvarna Vidhana Soudha in Belgaum, when North Karnataka did not get priority equal to South Karnataka, he raised the cry of 'Separate North Karnataka' state formation. While this may be anathema to some, it has been found to be true by those who are suffering from regional disparity. As a minister himself, though a part of the government, a separate North Karnataka should be formed. Umesh Katthi has said many times that if a separate North Karnataka is formed, I will be the Chief Minister of the new state.


Umesh Katti death: Umesh Katti's father, Vishwanath Katti, died of a heart attack in the assembly
Political Life: In 1985, he entered the assembly by winning the by-election of the Hukkeri Assembly constituency, which was vacated by his father Vishwanath Katthi, due to the untimely death of his father. Still 25 years old. At such a young age, he took the helm of political power and undertook many development works. Again in 1989, 1994, 1999, (setback in 2004) 2008, 2008 by-elections and re-election as MLA in 2013 saw many significant changes in his political career.
Appreciating his popularity in 1996, the party leaders, J.H. Patel, who was the Chief Minister at that time, made him the Minister of Sugar in his cabinet. As Public Works Minister in 1998, he undertook many development works.


Umesh Katti Background of Umesh Katthi's death: Postponement of BJP Janotsava program, 3 days of mourning
He was elected as an MLA for the 4th time in 1999. Elected to the 13th Karnataka Legislative Assembly in 2008, he was elected as an MLA for the 5th time from the redistricted Hukkeri constituency. But fed up with the internal policies of the party, he resigned from the post of MLA within 2 months. Later he joined the Bharatiya Janata Party following the legislative programs of Chief Minister BS Yeddyurappa.
Umesh Katti: Umesh Katti's mortal body; A roar from the fans who touched Mugilu
Considering Umesh Katti's immense public support and party organization skills, Chief Minister BS Yeddyurappa appointed him Horticulture and Jails Minister in his Cabinet on 27th August 2008 to enable him to serve the people of the state. Later, he created a historic record by winning the Hukkeri assembly by-election on December 27, 2008 with a huge majority. Although he was elected as an MLA in May 2008, he resigned from the post of MLA and joined the Bharatiya Janata Party after appreciating the pro-people activities of the then Chief Minister BS Yeddyurappa. Later, he took up developmental work in the department as Minister of Horticulture and Prisons in the formed government. After taking charge of Ramnagar district for a few months, he tried to build Rajiv Gandhi Research Hospital in that district.


Umesh Katti Death: Dignitaries condole the demise of Food Minister Umesh Katti of Hukkeri.
A smart move leader
Born on March 14, 1961, the eldest son of Vishwanath and Rajeshwari, a senior cooperative member of the wealthy Katti family of Bagewadi village, Bellada, Hukkeri taluk, Umesh Katti received his primary and secondary education at Swagram and received his higher education at Lingaraja College, Belgaum.
Janotsava: Postponing BJP's Janotsava due to Umesh Katthi's death: Basavaraja Bommai
In 2009, Umesh Katti nominated his brother Ramesh Katti's name as a candidate for Chikkodi Lok Sabha, which became a general constituency. Brother Ramesh Katthi was elected to the Lok Sabha due to Umesh Katthi's organizational skills and political acumen. Umesh Katthi, who was in charge of the World Kannada Conference held in Belgaum from March 11 to 13, 2011, worked hard for the success of the conference. On September 22, 2010, as the Agriculture Minister, Umesh Katthi had presented a beneficial agriculture budget for the farming class.