Bengaluru: Opposition leader Siddaramaiah has accused the ruling BJP of spreading false information about the Teacher Recruitment Scam. He gave a statement to the press on Wednesday and expressed his displeasure that even though he explained the details of when he was appointed, the date of illegal appointment etc.

Giving information about the teacher recruitment scam, he explained that out of the 12 teachers involved, 7 were recruited in 2019 when Yeddyurappa was the Chief Minister and Suresh Kumar was the Primary and Secondary Education Minister.
Teachers Recruitment Scam: Two officials arrested
Out of the remaining 5 people, two were appointed during the coalition government. Of the rest, one was appointed in 2015, another in 2017 and another in 2018, the records said.

There is information that one has joined the batch of teacher posts called in 2012-13. After that in 2015 again the process was done to fill up the posts. Vishweshwar Heggade Kageri and Kimmane Ratnakara worked as education ministers during these periods. The Education Minister has already explained to the media how the recruitment process will take place. Once approved by the finance department, the recruitment process will be done by the appointing authority, he said.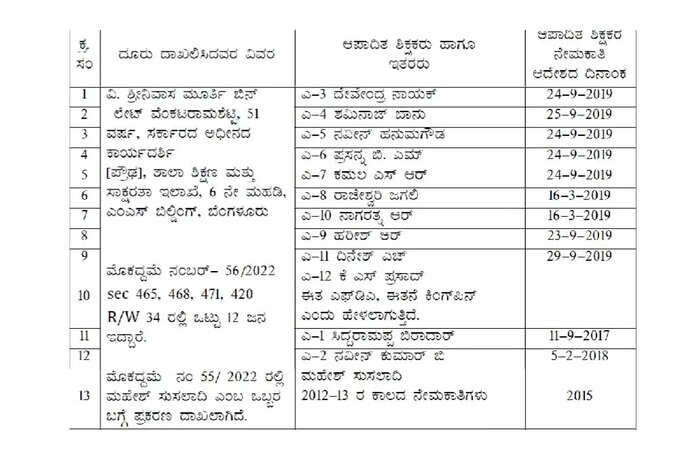 Teacher Recruitment Scam: Clerk in Scam; Teacher post for sale for 5 lakhs
The recruitment list will be approved by DDPI and Joint Director. Kimmane Ratnakar said that due to direct recruitment, there will be no other interference. However, strict action should be taken against those involved in this kind of treachery and illegal activities irrespective of the period in which it took place.
It should be ensured that the culprits are punished. The government should make serious efforts towards solving the problem of rising unemployment. Also, the government/ministers' offices should stop giving wrong information to the media. Or even the investigating agency should explain this to the media from time to time. He has said that he demands to act transparently and be fair.


PSI Recruitment Illegal V/S Teacher Recruitment Scam: BJP Tongs Congress in House!
Along with all this, unemployment has reached unbearable levels in the state. The unemployment rate of female graduates in the state is 39-40 percent. Unemployment among graduate youth is up to 35%. 2-3 thousand people are applying for each available post. He also mentioned in his statement that there is an imperative to take serious measures in this regard.