Bengaluru: Leader of Opposition Siddaramaiah met former Prime Minister HD Deve Gowda and inquired about his health.

Siddaramaiah went to his residence in Padmanabha Nagar and met Deve Gowda immediately after the assembly proceedings on Monday. Former Minister RV Deshpande and MLA Jameer Ahmed Khan were present.

Politically, Siddaramaiah, who was a disciple of Deve Gowda, resigned from the JDS and joined the Congress. He had met HD Deve Gowda on September 21, 2016 after becoming Chief Minister.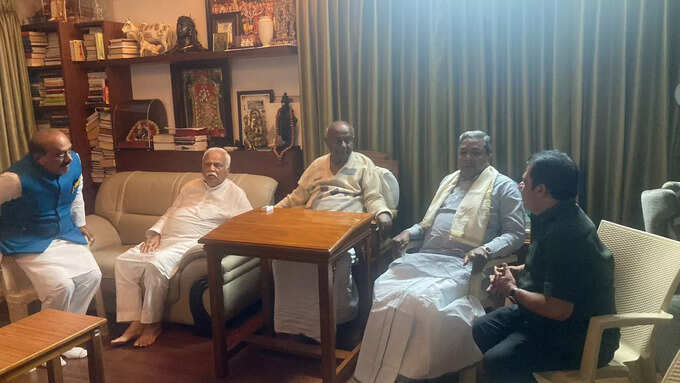 Siddaramaiah met Deve Gowda and discussed the court order and the decisions to be taken before the state government after the Supreme Court ordered the state government to release 42 thousand cusecs of water to Tamil Nadu.


Karnataka Legislative Assembly | Letter war by Congress and BJP members, chaos in the assembly
After that, he did not have a personal meeting with Devegowda. Now he met Devegowda and inquired about his health.
Recently, Minister R. Ashok also visited Deve Gowda's house and held talks.
I will talk about the scam tomorrow: HD Kumaraswamy
I have already requested the Speaker to give permission to speak in the House about bringing out a Haragana. However, I do not like to create nuisance in the House by talking happily. This morning also I called the president and requested again. He said that he would allow it late because he was allowed to discuss different issues. Kumaraswamy said that he might get an opportunity tomorrow (Tuesday).


Karnataka Floods | Government has worked efficiently in neighborhood management: Basavaraja Bommai asserts
What I am going to raise in the House is a very serious matter. I will speak on full record. I will answer those who say that Kumaraswamy will shoot in the air and hit and run. That is a matter related to a business worth thousands of crores of public interest. He replied to a question that the government has taken a shocking decision in this matter.