Bangalore: The name of the disputed Bababudan Giri Dargah in Chikkamagaluru district has been amended to Bababudan Giri (Inam Dattatreya Peetha) in the text. The primary and secondary education department has officially said that the name of Inam Dattatreya Peetha has been included in the text along with the name of the disputed religious place Baba Budangiri.

Legislative Council BJP member Pranesh MK asked an off-the-cuff question about the steps taken by the government to mention Inam Dattatreya Peeth (Datta Peeth) instead of Bababudan Giri in the textbook.

Allow Hindus, Muslims to worship at Dattapeeth: Cabinet sub-committee report recommends
Baba Budan Giri of Chikkamagaluru district is listed as Inam Dattatreya Peetha in the government records, but he questioned why it is mentioned as Baba Budan in the textbook.

In the text of the Education Department which has given an answer to this, what was earlier called Baba Budan Giri has now been amended as Baba Budan Giri (Inam Dattatreya Peeth). It said that this amendment has been made in the 4th and 9th class textbooks.

Apart from this, if it is noticed that the names of historical places are wrongly entered in the text, action will be taken to correct it.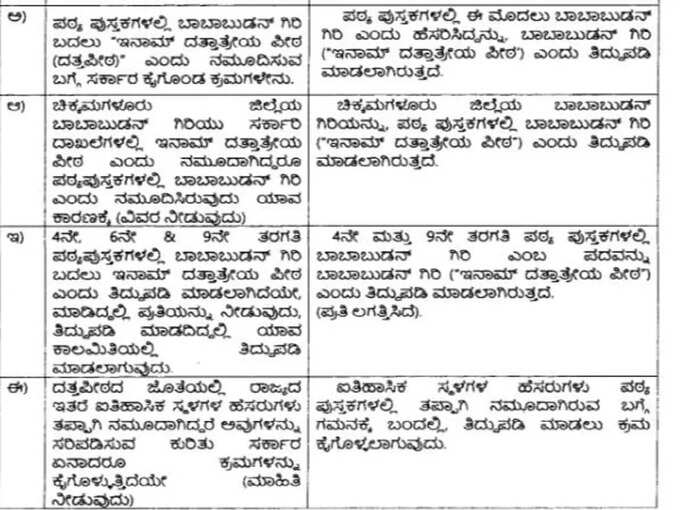 MK Pranesh had earlier written a request to the Education Minister to amend the name of Bababudan Giri as Inam Dattatreya Peetha in the text. In order to inculcate devotion to the field, he requested in the letter to amend "Inam Dattatreya Peetha" (Datta Peetha) along with Bababudan Giri in the textbooks.
What is the controversy??
Arguments are going on about who belongs to Bababudan Giri/Dattapeeth in Chikkamagaluru. Sri Guru Gurudattatreya Bababudan Swamy Dargah is the name found in the original government records. But this place is called as Baba Budan Giri and some others as Inam Dattatreya Peetha.
The two religions continue to argue in the court that this religious center, which has witnessed Hindu-Muslim spirituality, is ours. Currently, the High Court has ordered to maintain the status quo till September 5 regarding the Dattatreya bench of Baba Budangiri in Chikkamagaluru district.


Opening of the 5-day dattamale campaign organized by Shri Rama Sena at Bababudan Giri