Chicken and Lettuce Soup..

This creamy green soup is packed with nutrients. Chicken and Lettuce Soup is very easy to make.
Let the lettuce cook a bit first.
Let it cool and make a puree. Take the mixer.
Now take a pan, add butter, grate garlic and fry.
Add chicken stock and grated chicken breast and cook for 3 to 4 minutes.
Add salt, chilli and garam masala and mix well.
Now add the spinach puree.
After cooking for a while add lemon juice.
Serve it hot.
Chicken Corn Soup..
Many like to eat chicken and sweet corn. Corn crunchiness, chicken taste takes dinner to another level.
First fry onion and garlic in olive oil.
Now add the sweetcorn and cook for 3 to 4 minutes each.
Add salt and pepper powder and cook.
Allow this mixture to cool.
Blend to a puree.
Heat this puree and add cream and butter.
Now add fried chicken pieces.
Garnish with spring onions and serve hot.
Infertility: What happens if children are not born?
Chicken Vegetable Soup..
If you add vegetables to it.. it can be a healthy food too. Children love it. It is very good for them as it is rich in plant and animal nutrients.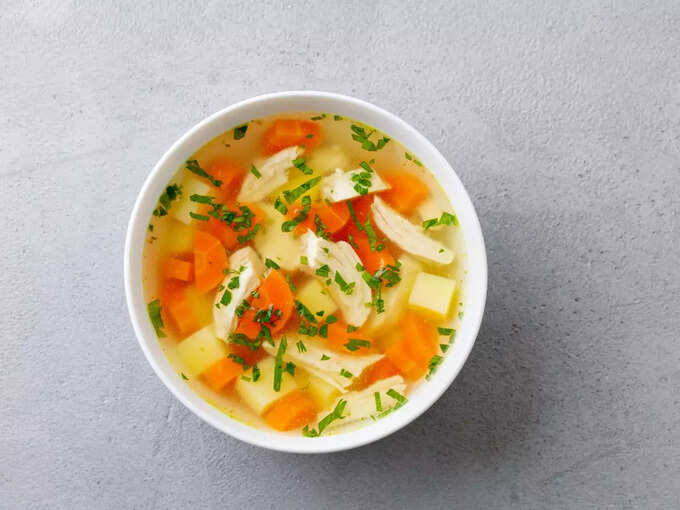 First boil the chicken and cut it into pieces.
Now also cut the vegetables of your choice into cubes.
Cook all this for few minutes. Stove off before they soften.
Keep the boiled vegetable water as it is.
Add butter to a pan and fry garlic.
Add salt and black pepper and fry.
Add the Costa Refined flour for the soup base.
Now add boiled vegetable water also.
Make sure it is cooked properly.
Add chicken pieces.
Garnish with cilantro of your choice.
Basic Chicken Soup..
For this soup you need chicken, garlic, vegetables of your choice and onion.
Now to prepare add salt in water and cook chicken.
Add onion and garlic to it.
Cook it for at least 30 minutes.
After cooling the chicken, cut it into pieces.
Add the vegetables to the chicken stock.
Cook until the vegetables are soft.
Add chicken pieces in it.
Garnish with cilantro.

Asthma: It is good for people with asthma to do these asanas.
Tibetan Chicken Broth
It is very easy to prepare.. We use spices from vegetables.
First cook the chicken.
Saute onions, ginger, garlic, celery, carrot, radish, bok choy.
Now add chicken and mix well.
Add salt, pepper, cinnamon, fennel, cloves, green pepper and coriander.
Add water and bring to a boil.
Add soy sauce, malt vinegar, lemon juice, and sugar.
Take out the chicken and cut it into pieces.
Add them back to the soup
You can also grate coriander.
Serve hot.
Get the more post updates on Health