new Delhi.

Techno (Tecno), a Chinese smartphone maker, has sold more than 6 million smartphones in 3 years in India and on this occasion, the company has announced a festive offer for customers, including Maruti cars, Hero bikes and You can win many prizes including smartphones. Techno
Great Tecno Festival
Has announced, in which customers can take home an attractive gift from November 1 to November 30 on purchase of Techno smartphone.
read this also- Mi would like to buy a new Pikachu edition power bank
After the festival, the techno company will announce the winner based on the lucky draw, in which the lucky winner can win the Maruti S-Preso car, Hero Passion Pro bike, Techno Camon 15 Pro and Hypods H2 earbuds.
read this also- Gate will open on seeing face, Xiaomi is bringing Smart Door Lock Pro
Take part like this
Now it comes to know how to take part in this lucky draw, then let me tell you that if you buy a smartphone of Techno between November 1 and November 30, then you can visit www.tecnomobile.in and register to participate in the Great Techno Festival. Can. To register, one has to provide a copy of the invoice along with your name, contact number, date of purchase of techno phone. You must complete all these procedures before December 7. After this, the winners of the lucky draw will be announced on 15 December.
read this also- These air purifiers under 10 thousand are the best, chance to buy pollution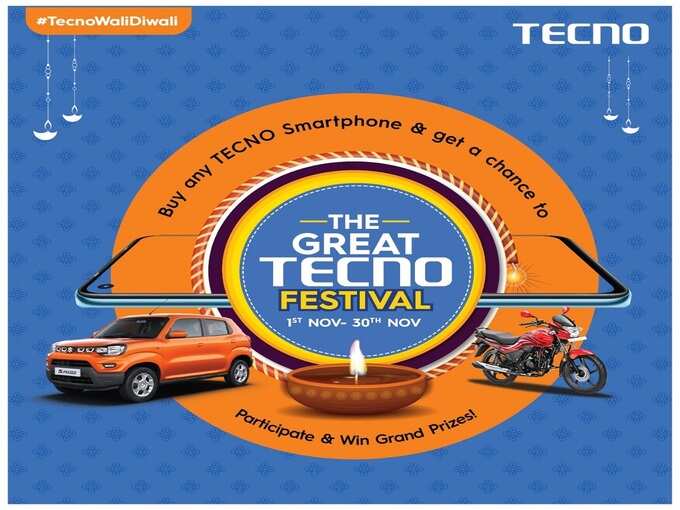 Best Deals on these smartphones
If you want to win more attractive prizes including cars, bikes and smartphones by participating in this festival season Great Techno Festival, then let me tell you that you get a discount of Rs 2500 on Tecno Camon 16 Flipkart for Rs 11,499, Tecno Camon 15 Flipkart 2000 You can buy Tecno Spark Power Flipkart for Rs. 10,499 with a discount of Rs. 11,999, Tecno Spark Go 2020 at Flipkart for Rs. 6,499 with a discount of Rs. 1500.
read this also- These 5 smartwatches of less than 5000, you will definitely want to buy, features are dhansu
Along with this, different types of offers are running on other smartphones of Techno, where you can get many benefits, including instant discounts of up to 10%. Techno has launched several Dhansu mobiles in the budget and mid-range smartphone segments in the last year and its number of users in small cities is increasing.