The meanings of the words 'Flexible', 'Multitasking', 'Dynamic' etc. have become more important today. Today we are living in such a time when we need support, then gadgets come first in our mind. When we talk about support and backing, Samsung smartphones immediately come to our mind. Samsung smartphones are best-in-class in terms of power-packed battery, fast processor and camera moments. All the smartphones that the brand has always introduced have worked to enhance the experience of the users. Samsung has always taken its stand for unique challenges and has created smartphones that offer perfect solutions.

Samsung persists with #UpForItAll for its new #GalaxyM53 5G. It has 108MP best-segment camera, 120Hz sAMOLED+ display and many other features that enhance the user experience manifold while using the phone.


Let us know why the Samsung Galaxy M53 5G smartphone is essential for all your needs:

1.Capture Moments with 108MP Best-Segment Camera
We are today from the generation that wants to record everything that brings us joy. Samsung understands this sentiment and has always provided people with smartphones that capture great photos. In the Galaxy M53 5G, the company has given a 108MP lens, which with its crystal-sharp capability, captures such pictures in which all the details come out perfectly. There is a 32MP front camera sensor on the front which is perfect for selfies.

2. Have Object Eraser for Perfect Picture
Another great feature is the object-eraser. Many times it happens to us that some such elements or say such things are captured in our good photo which we do not want and it seems very difficult to use an app to remove these things. However, with the Galaxy M53 5G you can easily go to the edit section and select 'object remover' and then simply remove the element or whatever you want to remove in the picture and you will have the same picture as you want. You wish.

3. Great display for the best experience
Samsung has always been using its best display technology. Galaxy M53 is one of the best smartphones from the brand with 5G innovation. It has a segment-leading sAMOLED+ and Infinity-O 6.7-inch FullHD display. It has a 120HZ refresh rate which will enhance your experience. So, you will get a great experience when you watch your favorite movie or play game.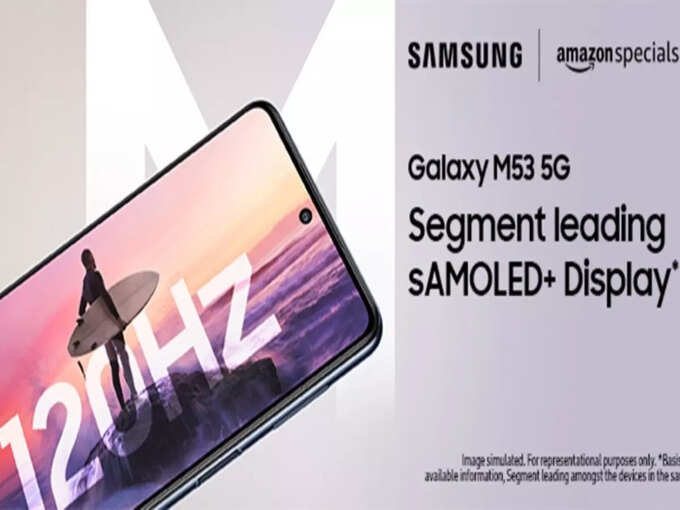 4. your smartphone will be cool
Has it ever happened to you that your phone is heating up when you are on an important call or scrolling through the feed? Samsung Galaxy M53 5G is the solution to all your worries. The company has given a vapor cooling chamber in the smartphone, which ensures that you can do all the things of your choice without putting your phone away. Whether it's binge watching or playing your favorite game all day, or video calling with the people you love, you can do it all with the Galaxy M53 5G and feel the heat in your smartphone anytime. Will not done.
5. Streamline your routine with best technology
Where multitasking has become necessary for people in today's era, in such a situation, if the smartphone starts lagging, then one gets angry. But with Samsung Galaxy M53 5G you will be able to do multitasking very easily. Let us tell you that this phone gives you up to 16 GB of RAM plus support.
See the rest of the reasons why Galaxy M53 5G is the best
The phone is powered by ARM Mali G68 GPU with best 2.4 GHz MediaTek Dimensity 900 octa-core processor clocked at 6nm: The processor in this device is capable of meeting all your needs from shopping to surfing and gaming.
12 5G Bands: Be prepared to keep up with the times, this smartphone is future-ready to keep you updated.
Dolby Atmos: You will get a cinema-like sound experience at home with this phone.
Samsung is also offering many offers along with its latest smartphone at the Fab Grab Fest on Samsung.com and Samsung Exclusive Stores. Up to 33% off on Galaxy M Series devices and free 25W charger. There is also additional cashback of up to 10% and additional benefits on purchases made through the Samsung Shop app. Please note that the offer expires on May 8!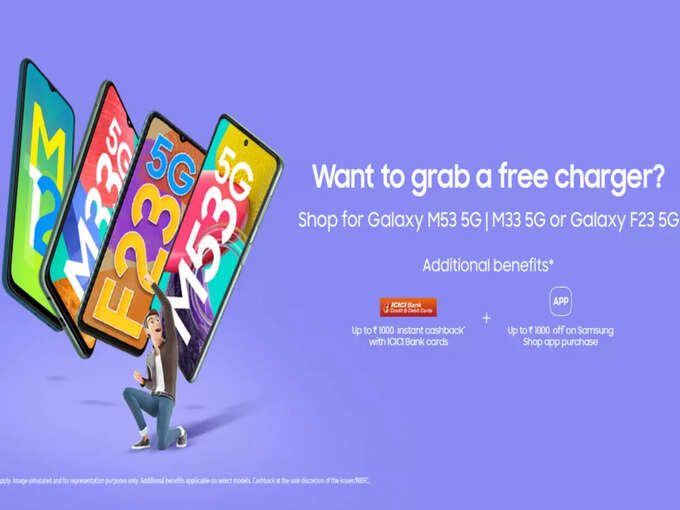 You can buy Samsung Galaxy M53 5G from all major retail outlets, Samsung online stores and Amazon.
*Charging adapter sold separately.
Disclaimer: The article has been produced on behalf of Samsung by the Times Internet's Spotlight team.