new Delhi
Another reason has come up for Nokia's mobile phone. According to recent Eye Counterpoint research, Nokia's smartphones are number 1 in software-security updates, build quality and durability. All Nokia's smartphones this year work on Android 10. In this list, Nokia is named after OnePlus, Samsung, Realme, Xiaomi, Huawei, Oppo, Lenovo, LG and Vivo.
Get security patches every month
An analyst at Counterpoint said that HMD Global's mobile phone product line has been ranked higher than other brands because their devices get security patches every month. In this case, the name of OnePlus comes after Nokia. About 90 percent of OnePlus devices get security patches every month.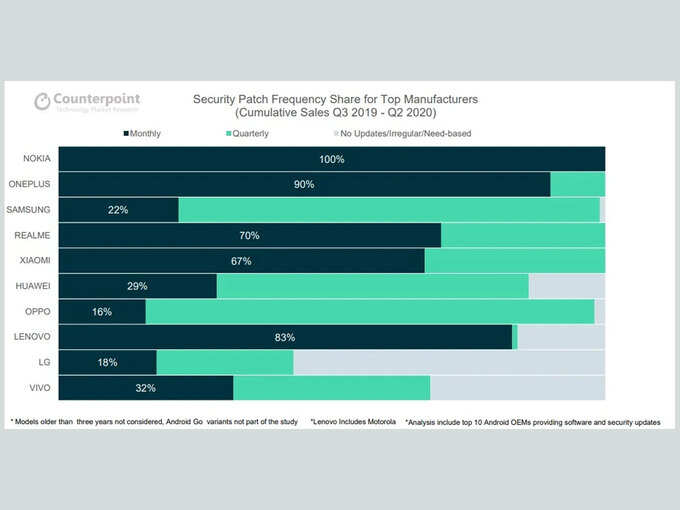 Samsung, Huawei devices update on three months
Samsung and Huawei scored 22 and 29 percent respectively in the security patches. This means that the devices of these two companies get security patch updates every three months. If you talk about Realme and Xiaomi, then their performance was slightly better than Samsung and Huawei. Monthly security updates are given to two-thirds of Realme and Xiaomi smartphones.
Xiaomi Sale's last day, discounts up to 10 thousand on these smartphones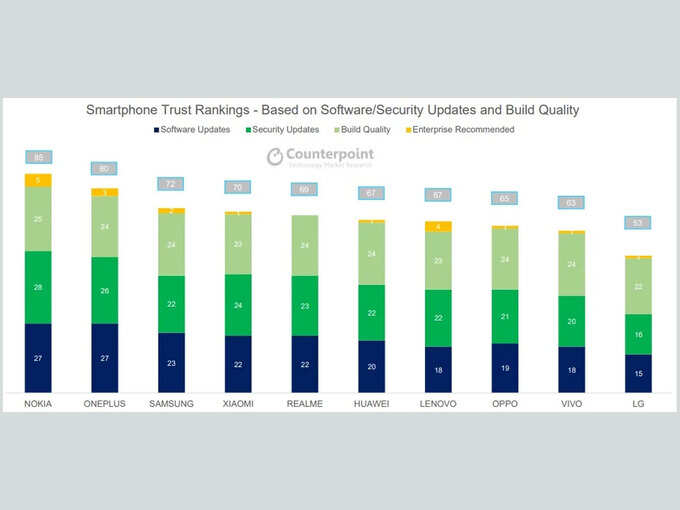 Airtel added 14.4 million new 4G users, spending 16GB of data every month
The most difficult way to test HMD Global
Countpoint research says that HMD Global's testing process is considered the most rigorous in the industry. Tarun Pathak, Associate Director of Counterpoint Research said, "Build quality criterias are checked on a number of grounds including robustness, force measurement, drop impact, thermal tests and more." Tarun also told that the build quality of Nokia will be better known in the coming time as the cycle of global device replacement is going to reach 30 months at the moment.