new Delhi.
If you are in a Windows laptop
Android apps
If you want to use it then now your wish can be fulfilled. Microsoft has released support for Multiple Android Apps for its Your Phone app. An app called Your Phone is used to connect your PC to a smartphone.
According to Microsoft's official website, users through the new feature
Windows 10
You will be able to use many Android apps on the laptop simultaneously. However, this feature is currently limited to select Samsung devices only. Apart from this, the feature window has been made available for Insider Community's developers and testers.
From sending money till the message disappears, these amazing features came in Whatsapp
Microsoft says that this is an early preview that will be released to all users a few days later. So let us know about the list of Samsung devices which have got support of this feature.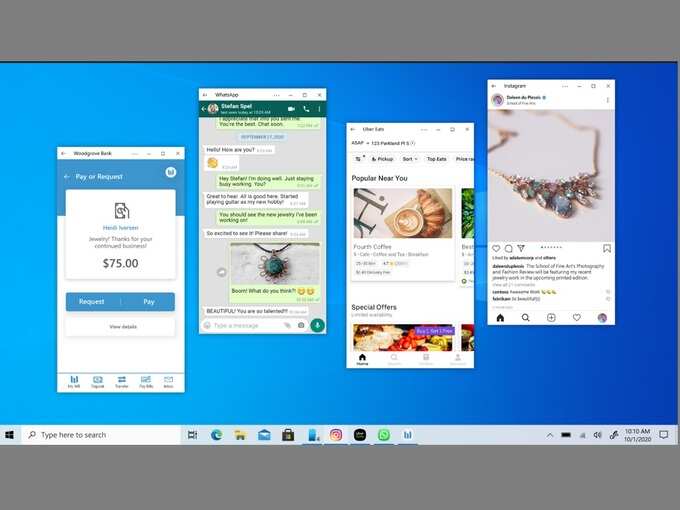 This feature came in these Samsung devices
Samsung Galaxy Note 20 5G
Samsung Galaxy Note 20 Ultra 5G
Samsung Galaxy Z Fold2 5G
Samsung Galaxy Z Flip
Samsung Galaxy Z Flip 5G
Samsung Galaxy S20 5G
Samsung Galaxy S20 Plus 5G
Samsung Galaxy S20 Ultra 5G
Bought a new iPhone? In this way transfer your Android phone's data
What is it Your Phone App
This Microsoft app works on a laptop running Windows 10. Through this, you can connect your Android or iOS device to a laptop. Users can download the Your Phone app from the Microsoft Store. Through this, not only you can access the photos of the phone, but you can also manage the notifications. That is, while working on the PC, the phone can be conveniently kept in the pocket.