WhatsApp Privacy Policy: Many questions are being raised about the privacy of instant messaging app WhatsApp. Now the government has also interfered in this matter. According to some reports, WhatsApp had changed its privacy policy shortly before, according to which the information of the users will be shared with Facebook and Instagram. It has also been said that if the users have not agreed to it till February 8, then their account will be deleted. This policy is being investigated by the government. According to media reports, the matter is being constantly monitored by the government. However, no official confirmation has been made about this. At the same time, the company has given clarification regarding the new policy of WhatsApp.
WhatsApp updated policy: Under WhatsApp's new policy, users' information will be shared with the company's parent company Facebook. It is also being said that the information of the users will be shared with the colleagues of Facebook. This data will include many information like users' location, usage pattern, phone number, contact list etc.
Users are very unhappy with this policy of the company and are protesting leaving the platform. This policy has been opposed by many entrepreneurs, privacy advocates and agencies. The opposition to this increased so much that the Signal app reached the first position in the top charts of Google Play Store, surpassing WhatsApp.
WhatsApp clarifies policy: In the FAQ post of WhatsApp, the company has posted a post that states that WhatsApp cannot see private messages of any user. Also cannot hear calls. WhatsApp does not know who the user is messaging and calling. The company you are sending the location to your friend or family cannot see it either. WhatsApp does not share user contacts with Facebook. WhatsApp groups will remain private. Users will also be able to choose Message to Dispire further. Users will be able to download their data.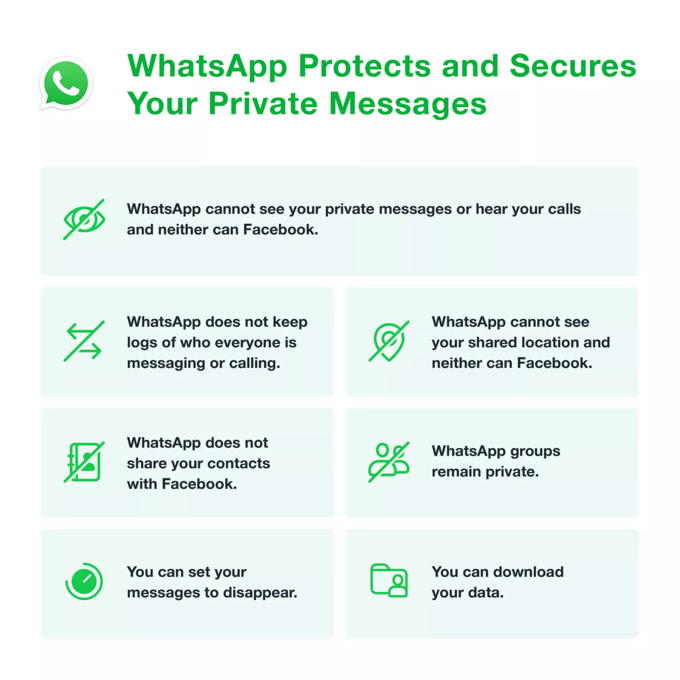 CEX Alan Mask of SpaceX has said on this matter that users should find and use WhatsApp option. According to reports, the government has been expressing concern over many matters. There is currently no law on data protection in our country, due to which the government's concerns are increasing. The Cambridge Analytica data leak case is already on Facebook. It is under investigation. In such a situation, the IT Ministry can take a big step to make WhatsApp users' data available to Facebook. The government can call for a reply in this regard from WhatsApp.