Taking a step forward in the path of success, India's No. 1 Music Entertainment Company 'Mirchi' is all set to launch its mobile app 'Mirchi Plus'. Mirchi has taken its digital journey further and 'Mirchi Plus' app is a repository of all the entertainment news, entertainment news of Mirchi apart from original audio stories, podcasts. On Mirchi app users will be able to access Mirchi content library anytime and anywhere.

Apart from Apple and Android smartphones, 'Mirchi Plus' will also be available for Android Auto and Apple Car Play system. There will be a lot of amazing content on 'Mirchi Plus'. There will be content in 10 different languages ​​like English, Hindi, Punjabi, Marathi, Gujarati, Bengali, Telugu, Tamil, Malayalam and Kannada. Audio stories can also be enjoyed on this app, which will have content from different genres apart from drama, comedy, romance, horror, thriller.


Let the readers also tell here that every month a great collection of new audio shows is also going to be available on 'Mirchi Plus'. The app will have exclusive audio content, which will be the first of its kind. It will have a crime audio story inspired by true events, titled '1000 Crore Ki Lash' and users will be able to listen to the stories of the show in the voice of their favorite actor Nawazuddin Siddiqui.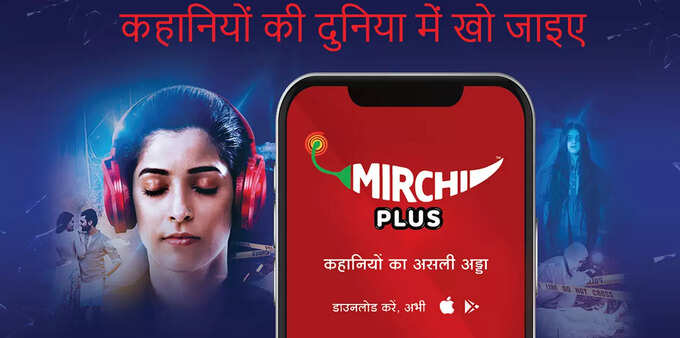 .There are also the best romance based audio stories for the fans 'Aakhri Rishta', which users will be able to enjoy in the voice of Neena Gupta. Apart from this, the section based on the travel drama 'Purane Khat' will be heard in the voice of Rhea Chakraborty and the supernatural thriller 'Varuthi' in the voice of Ashutosh Rana.
Apart from all this, here Mahesh Bhatt and Pooja Bhatt have brought great content of 'Mirchi' with great content 'Mircha Murga', Mythology show 'The Devdutt Patnaik', 'Bhat Naturally' besides talk show series on Bollywood controversies. Along with this, Kareena Kapoor's talk show 'What Woman Want' interviews with all the celebrities of Bollywood are also available here. The legendary 'Manto' show will be sung by Nandita Das, Nawazuddin Siddiqui and RJ Saima on 'Mirchi Plus'.
Commenting on the launch of 'Mirchi Plus', Vineet Jain, Managing Director, BCCL said, "Mirchi's audience has always enjoyed everything they love about music. With the launch of Mirchi Plus, we are entering an exciting and exciting space in the world of stories and original content. Mirchi has transformed into a full digital avatar, which gives us the opportunity to select, analyze and act on the consumer.
Prashant Pandey (MD & CEO, ENIL) said on the launch of the app, "For over two decades Mirchi has ruled the radio industry with its stellar audio entertainment. Keeping in view the changing needs of our consumers and the rapidly growing digital adoption in the entertainment world, we wanted to enhance our engagement and position ourselves where our consumers are located. Mirchi is making us stronger in the digital world. Through the launch of this app, we want to bring great and variety of things to our audience in different languages. Mirchi Plus is a significant addition to Mirchi's digital properties, meeting the target of achieving 25% revenue from digital.
Get more latest news updates on Entertainment