Highlights:
Surya participating in fan Hari wedding ceremony
Close star applauded and blessed star hero
Photos go viral on social media
Tamil hero The sun Entertaining the audience with a variety of images. Unlike the rest of the heroes, he made a name for himself by making experimental films. No matter how hard Surya works for the different roles he plays .. he values ​​his fans just as much. Fans are welcome if they are in trouble. Studying their children in his organization. Many are reading to poor children. Hence, Surya is a favorite of many in Tamil Nadu.
Meanwhile, Surya recently attended the wedding of her fan Hari. The newlyweds blessed Hari and Priya by participating in the wedding ceremony held in Chennai yesterday (January 25). The bridegroom Hari offered him the talibot with his hands as per Surya's wish. The whole wedding thread was there and watched. After that the newlyweds sat down and posed for photos. This time he put his hand on Hari's shoulder. Seeing all this, Surya fans are chanting 'This is our hero'.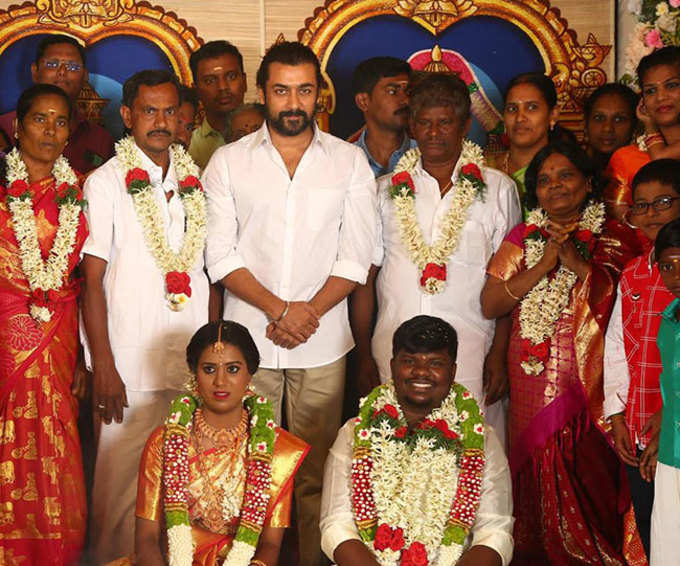 These photos have been going viral on social media since yesterday. Also, the sun look in these photos is also going viral. When it comes to Surya movies, during the lockdown, 'Akasham Ni Haddura!' Surya came forward to the audience through OTT with the film. The film is currently being directed by Pandiraj. This is Surya's 40th film. The title is yet to be finalized. Surya will also be making a film titled 'Vadivasal' directed by Vetrimaran.