Tollywood Singer last (Saturday) night
Sunita married
Took place in the presence of family members. After getting engaged to digital media person and businessman Ram Veerapaneni a few days back, it is known that Sunita wanted to go to Thirumala and visit Srivastava and give her a beautiful life. On January 9, she took seven steps with Ram Veerapaneni in this sequence.
Sunita at Ammapalli Sitaramachandraswamy Temple in Shamshabad, a suburb of Hyderabad Ram Veerapaneni United by three barbed wire. The event was attended by many film and political celebrities. Young hero Nitin is happy to be with his wife Shalini. Many political dignitaries including music director Arfi Patnaik, Telangana state panchayati raj, rural development and rural fresh water supply minister Errabelli Dayakar Rao also attended and blessed the couple. Photos and videos related to this are currently going viral on social media.
Also Read: Shiva Jyothi: Shiva Jyothi who bought an expensive car .. Teenmar Pilla Range has changed! If you look at the ice reaction ..
This is the second marriage for both Sunita and Ram Veerapaneni. Sunita was first married at the age of 19. After years of conflict with her husband after marriage, she was left alone for years to take care of her children who had taken a divorce. However, Mary, who wanted to accompany her mother Sunita, was fortunate to have this marriage with her two children.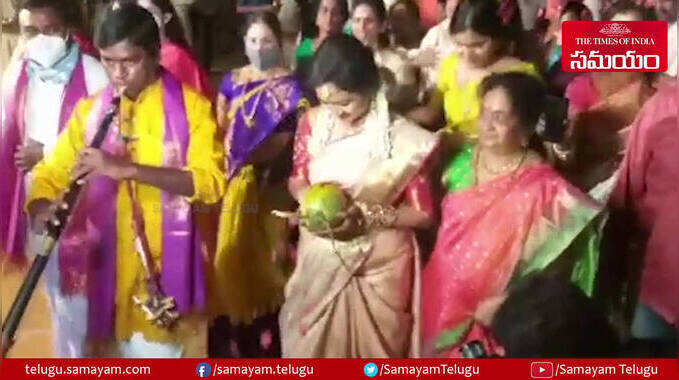 Singer Sunita Wedding Video ..