Highlights:
Pooja Hegde live chit chat with netizens
A netizen who wants a nude photo
A sad doll with a photo like that
Social media is rapidly expanding day by day. With the availability of high speed internet services and the proximity of smartphones to everyone, everyone is active on social media regardless of age. The distance between celebrities and ordinary human beings has been greatly reduced, especially due to this social media. Facilitated sharing anything. With this, some netizens are using it in another way and making obscene comments on celebrities. Pooja Hegde had a shocking reaction to a similar experience recently.
The seller, who is busy with Bollywood movies along with Tollywood, has been in touch with netizens for a while as his social media account Insta platform. Despite all that, a netizen did a naughty job in this live chit chat. Simultaneously Pooja Hegde Nude photo Requested to be put. Pooja immediately acted cunningly with this .. She posted a photo of him turning around. Responded appropriately and made the netizens' mind blank.
Pooja took a photo without clothes up to her knees .. Pooja gave a shocking reaction saying look at the photo of my naked feet. With this, he was overwhelmed without any anger even when asked to do so Pooja Hegde Netizens appreciate the manner.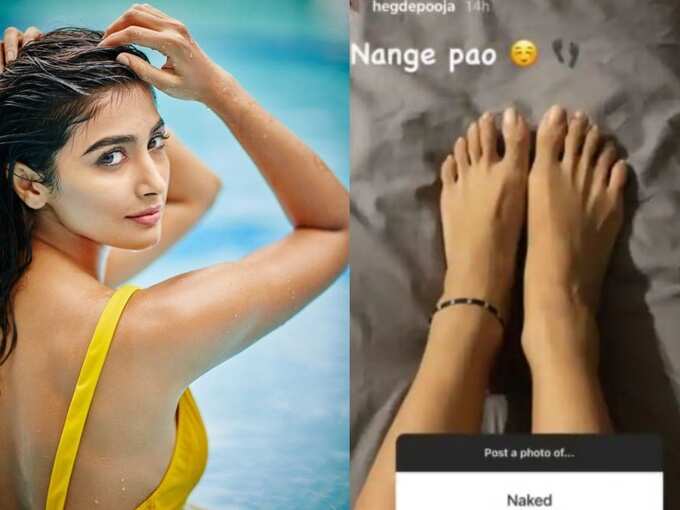 Pooja, who received super success with the film 'Ala .. Vaikunthapuramulo' last year .. is currently busy with a series of films. Rebel star Prabhas is starring opposite Pan India in the movie 'Radheshyam'. Also Akkineni is playing a glamorous role opposite Akhil in 'Most Eligible Bachelor'. The latest talk is that she also got a chance in the mega project 'Acharya'.