Leading actor, writer, director
Tanikella Bharani
Great Shiva devotee. He often writes hymns, poems and songs showing his devotion to Lord Shiva. Songs written in his memory of Shiva are very popular. However, he recently started a sequence on Facebook called 'Shabbashra Shankara'. As a part of this .. 'Gappal goddaru gadde kodukulu .. nuvvundanga levantaru .. unnavo levo chevula jeppipora shabbashra Shankara A post called.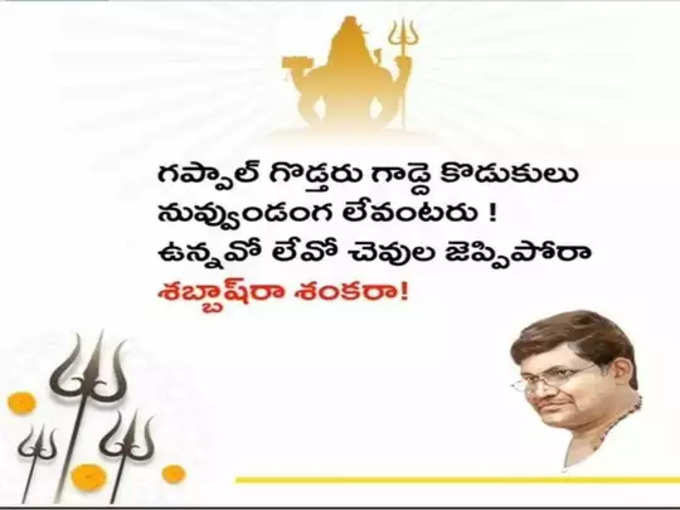 However, the rationalists were upset over this .. Tanikella Bharani was united. Facebook has been publicly challenged as a platform. Especially Bigg Boss Fame .. Humanist, Rationalist, Atheist Babu Gogineni.. Tanikella Bharani made a public challenge condemning the remarks. 'Son of a donkey' is written when someone cries .. he was incensed. Babu Gogineni made harsh remarks on Tanikella Bharani on this occasion. The details are in the following article.

'Gappal goddaru gadde kodukulu .. Shabbhashra Shankara' Ollu Balisinode writes like this .. Controversial comments on Tanikella Bharani
However, as it became a big controversy, Tanikella Bharani took corrective action. I am not against anyone .. The video was released unconditionally apologizing. For the last few days I have been posting on Facebook saying 'Shabash Ra Shankara ..' However .. unfortunately some of the comments were known to have hurt some minds .. hurt. I do not want to give an explanation for it anymore. Because whatever is said is like covering up .. I join hands and apologize unconditionally. Also deleted that post .. I have no objection if all rationalists .. humanitarians miss the honor. Also no one has the right or the power to hurt any man. I want to apologize once again for the mistake .. Hello everyone, 'said Tanikella Bharani, joining hands and apologizing.