Rana Daggubati
The first thing he reacted to about the tough moments he faced in his life was knowing. Rana, who participated in the 'Sam Jam' talk show hosted by Samantha, reacted to her illness. These visuals were shown to the audience in the 'Sam Jam' Episode 2 promo. However, in episode 2 of 'Sam Jam', which has been available since Friday, Rana went on to describe his illness and the difficult conditions he faced at the time.
It's time to prepare for the 'jungle' shooting in Thailand. The entire unit, including Rana, is based in Thailand. However, director Prabhu did not suggest using a different lens for Rana's eyes in the film. But, that lens could not be put into Rana's eyes. The lens should be fitted after receiving and performing a minor surgery on the eyes. Rana planned to go to the shooting after a 10 day break after undergoing this surgery. Before going to the hospital, see BP first.
Also Read: Chiranjeevi, Nagarjuna lobbied .. did us injustice: Producer sensational comments
Doctor immediately .. How are you, are you okay? That is. Rana replied that he was fine. Is it okay to walk? Asked the doctor. "I came from Thailand. I jumped out of the trees and came back," said Rana. However, BP is a little different. Do not want surgery today. Let's do it another day, said the doctor. With this, if Rana goes to another hospital at 12 noon on the same day, he will have to undergo many tests. Are you okay with every doctor who did the tests? Asked Rana. But Rana said he was perfect.
On the whole, the doctors did all the tests and concluded that Rana had a BP of 220/192. That's twice the normal human average BP. However, the head of the hospital came and told Rana that he needed to do some more tests. Even if he stays in the hospital all day and there is still no clarity, Rana will not be a doctor. Realizing that it was complicated, Rana went to America with her father Suresh Babu the same night.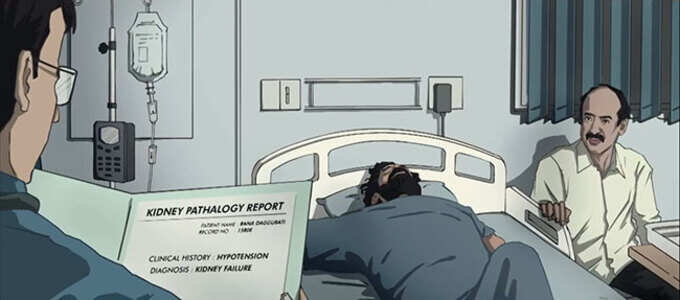 "In America it is called the Mayo Clinic. If there are no answers to our questions anywhere in the world we will find them there. All tests were done there for three days. In American hospitals, anything without emotion is straightforward. Dr. Shanti Swarup Begum is a very close friend of mine there. He came to me and told me that you have high blood pressure at birth. But no one could detect it. It is said that some organs in the body are damaged due to it. Calcium is going to accumulate around the heart. Also, it says that your kidneys are damaged. "If you do not have surgery right now, you have a 70 percent chance of having a heart attack and a 30 percent chance of dying." It will happen in six months, "Rana said.
Rana said he did not even know if he would believe what the doctor said when we were well. He said it was very difficult to digest. "After spending a few days in the United States for medical treatment, I found it very difficult to cope. On the other hand, the entire unit for the 'jungle' shooting is in Thailand. I had not yet said anything to the Lord. That's all I said I would go to America and come back in four days. Dad looks very assertive in any situation. But, then he looked very weak to me. I understand the situation. We are the first to die for the questions they ask in American hospitals, "Rana said of the ordeal.
Also Read: Love Failure But I Know That Badento: Renu Desai
Rana said that he had enjoyed a very luxurious life. However, the doctors advised him to stop that life immediately. "Alcohol, cigarettes, salt and meat should all be avoided. Want to eat very little. I lost all my habits in one day, "Rana said. In fact at one stage Rana stopped appearing on social media. Only one photo came out. She looked very thin in that photo. Various rumors circulated with this photo. But, the diet taken by Rana for that healing made me so lean. The difficulty he had in recovering after the surgery was over and getting ready for the old Rana was not all. Truly this journey has inspired many. Rana is going to release a short film on his life struggle soon.