The curfew order has been in force in Tamil Nadu since 25.3.2020 with various relaxations under the National Disaster Management Act as per the guidelines of the Central Government for the prevention of corona virus infection.
In the meantime, the general freeze was relaxed Central government, Gave the first permission to operate theaters with 50 per cent seats from October 15 last year. Standard guidelines for this have also been published.
Following that, with 50 per cent seats in Tamil Nadu since last November Theaters Are running. However, the theater owners demanded an increase. இதனையேற்ற Government of Tamil Nadu, Allowed theaters to operate with 100 percent seats.
However, this decision of the Tamil Nadu government was opposed by various parties. Medical experts also point out that the corona is more likely to spread easily inside a closed room. At the same time, the Central Government said that it was illegal for the Tamil Nadu government to allow 100 per cent spectators in theaters and advised the Tamil Nadu government to issue a new order in line with the Central Government's guidelines for corona prevention.
Ban on chicken, duck and eggs: Tamil Nadu government orders action!
In this situation, the Tamil Nadu government has announced the cancellation of the order allowing 100 per cent seats in theaters. However, as per an earlier order, the Tamil Nadu government has allowed only 50 per cent back seats in theaters.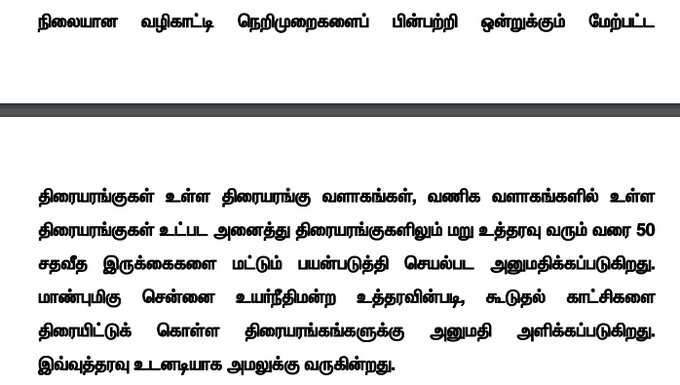 In more than one theater following standard guidelines Theater The new order issued by the Tamil Nadu government states that all theaters, including those in theaters and commercial premises, will be allowed to operate using only 50 per cent of the seats until further orders. Meanwhile, the Tamil Nadu government has given permission to theaters to screen additional shows.