Highlights:
Sivakarthikeyan who adopted the lion and the elephant
Sivakarthikeyan, who had earlier adopted the tiger
The Scholar Anna Zoo in Vandalur has 2,452 animals. A public adoption scheme for zoo animals was introduced. People can adopt animals accordingly and bear the cost of food and care. There is a tax deduction for the amount they donate and you can come and go to the park for free.

In this case, the scholar Anna found a lion named Vishnu and an elephant named Prakriti in the zoo Sivakarthikeyan Has adopted. Vishnu has adopted Prakriti for six months.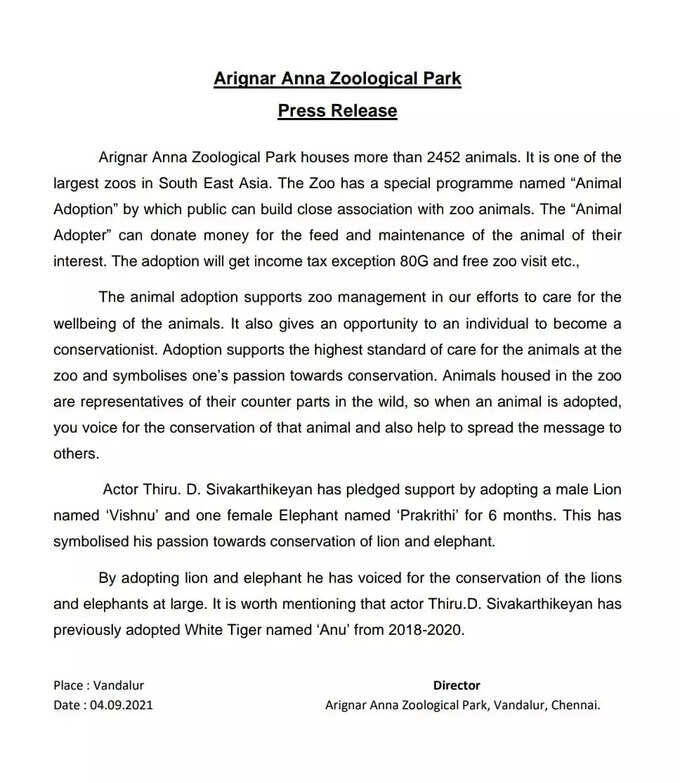 He had earlier adopted a white tiger named Anu. Sivakarthikeyan Vishnu, the park management has issued a statement regarding the adoption of Prakriti for a period of six months.
Sivakarthikeyan is starring in the newcomer CB Chakraborty directed film Dawn. He is also starring in the film and co-producing with Leica.
Sivakarthikeyan will also play Gautham Menon in the film. That's the alliance movie that fans are most looking forward to.

What are you, my boy friend ?: Vanitha who shook Wije