Cinema in March last year across the country as a measure to prevent the spread of corona
Theaters
Were closed. As a result there has been trouble releasing new images. To address this issue, some films have been released online on ODT technology.
In the meantime, the corona has eased the general freeze that has been continuously extended as a measure to curb the spread Central government, Gave the first permission to operate theaters with 50 per cent seats from October 15 last year. Standard guidelines for this have also been published.
As a result, theaters in Tamil Nadu have been operating with 50 per cent seats since last November. However, the theater owners demanded an increase. Especially Pongal During the festival, these demands were strengthened as the films of the leading stars were released.
Whether bird flu has come to Tamil Nadu; What is the real situation?
Meanwhile, actors Vijay and Simbu have demanded the Tamil Nadu government to run the theaters with 100 per cent seats. In its sequel, the theaters run with 100 percent seats Government of Tamil Nadu Granted. However, this decision of the Tamil Nadu government was opposed by various parties. Medical experts also point out that the corona is more likely to spread easily inside a closed room.
In this context, the Central Government has stated that it is illegal for the Tamil Nadu Government to allow 100 per cent spectators in theaters and has instructed the Government of Tamil Nadu to issue a new order in accordance with the Federal Guidelines for Corona Prevention.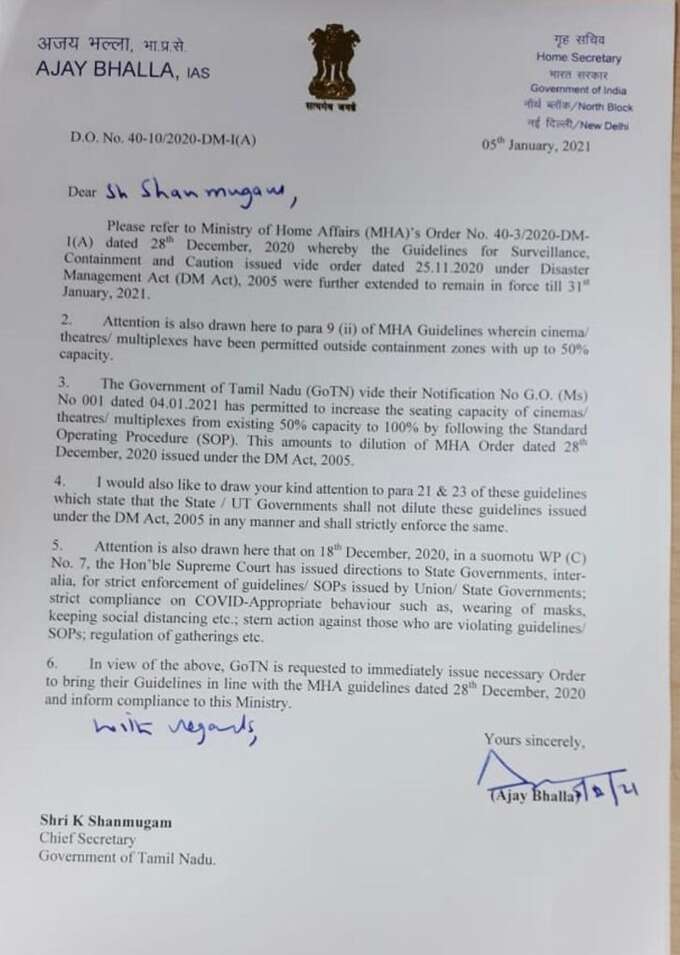 In a letter to the Chief Secretary to the Government of Tamil Nadu, Union Home Secretary Ajay Balla has pointed out that the Central Government has given permission to operate theaters with 50 per cent seats in areas other than restricted areas. If the Tamil Nadu government issues a new order accepting this, it seems that 100 per cent of the audience in the theaters will not be allowed.