Highlights:
Controversy over Kushbu's tweet
Khushbu responded to his critic
Many of the celebrities on Teachers' Day yesterday tweeted congratulations to their gurus. Actress, BJP Administrator Khushbu The artist had proudly tweeted that Karunanidhi was his teacher.
Those who saw the tweet started talking that Khushbu was going to go back to DMK. In this situation, Ayyappan from AIADMK IT section looked at Khushbu's tweet and seemed to be ready for DMK. Ithulam commented that she is an annoying sister.
Khushboo who saw it said,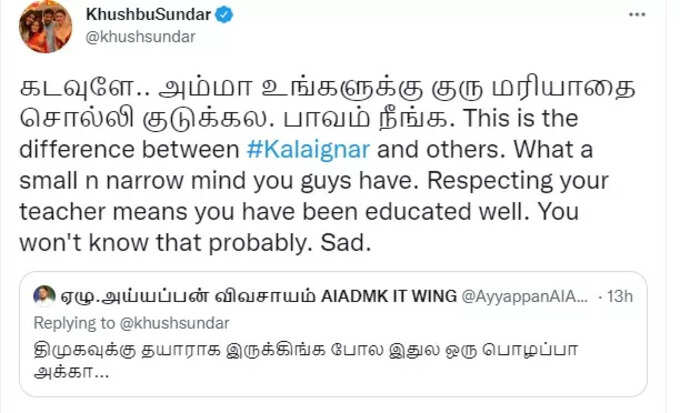 God .. Mother, let me tell you the respect of the Guru. You are sinful. This is the difference between 'artist' and 'others'. What a trivial intellect you have. Respecting the Guru means that you have learned well. The answer is that you do not know it.
Those who saw Khushboo's response said,
Madam, this question is because you often jump to the party. Are we sinners, or are you? You said you liked the artist but did not like Stalin.


Suriya: Suriya introduces director Shankar's daughter as a heroine