With a video clip from Alia Bhatt starrer 'Gangubai Kathiawadi', a restaurant in Pakistan has tried to run its shop, which people are calling as ridiculous. People are seen getting furious on this marketing idea on social media and are lashing out at the creator.

It happened that a restaurant in Karachi has used an emotional scene from the film 'Gangubai' while offering it to its customers (men). This is the scene where Alia Bhatt's character is tricked into red-light areas and pushed into prostitutes for the first time. This scene of Alia was such that the viewers were very emotional. In this scene, Alia was taught how to call her customers. Now by taking the help of this scene of the film 'Gangubai', the restaurant of Pakistan has tried to run its shop.

View this post on Instagram

In its promotional video, the restaurant has used this scene of Alia Bhatt and wrote, 'Aaja na Raja, what are you waiting for? Come and grab this 25% discount on Mondays only for men.'
People are getting angry on this promotional video. The user has written – All of you have used painful scenes for your ad. Calling it shameful, people have also advised to delete it. People are also advising to change the marketing team by calling it poor marketing. People are calling it depressing and the worst idea.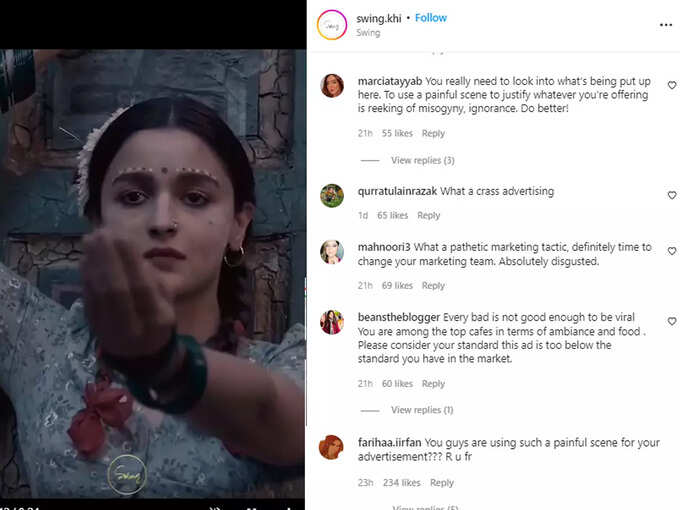 View this post on Instagram

After this the team has not removed this video but has definitely given clarification on it. In its clarification on the social media handle of the restaurant, it has been written that this is only a concept, we did not want to hurt anyone's sentiments. Film and it is based on post concept. On this post also people are asking him to remove that post.
Get more latest news updates on Entertainment