Hollywood film Doctor Strange in the Multiverse of Madness has made people crazy since its release. The excitement of the fans to watch the film is not taking its name to end. The film has also been released in Pakistan and the best part is that there is also a good response to it.

5 movies of Pakistan Dharashayi
There were 5 Pakistani films released in Pakistan on the occasion of Eid, which initially earned well but now with the arrival of Doctor Strange, all those films have shifted to limited screens and with this Dr. Strange is getting more screen space. 1 Punjabi and 4 Urdu films were released on Eid in Pakistan but they all went haywire as soon as the Hollywood hit was released.

Doctor Strange 2 Box Office Collection Day 3: The magic of 'Doctor Strange 2' was ineffective, neither could earn 100 crores in three days, nor could KGF 2 earn awe
Actress Nida Yasir's anger
Reacting to the neglect of these films, Pakistani actress Nida Yasir wrote, 'We all have to stand together to make our industry bigger and better. This includes every actor, director, distributor, producer. If we keep resorting to foreign films and do not give our films, then we are digging our own grave. Very disappointed that our movies were given just 4 days. We are all at risk. Time has come to stand together.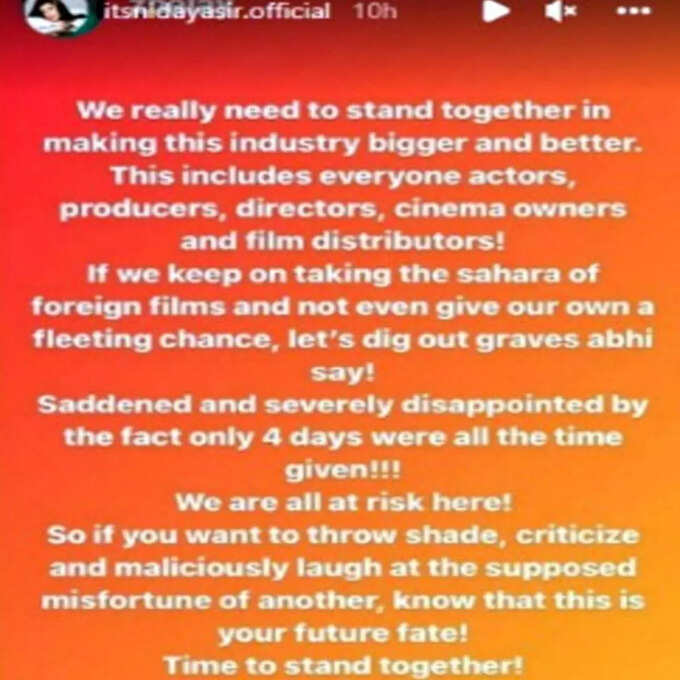 The Magic of 'Doctor Strange'
The filmmakers of Pakistan have expressed concern about this matter and for this reason they have also raised their voice against it. Disappointed with the Pakistani ministry, the filmmakers have spoken about the financial loss they are facing and that they have to pay for it. The filmmakers also called a press conference against the importance of foreign release over local production and they say that the government should find a solution for this.